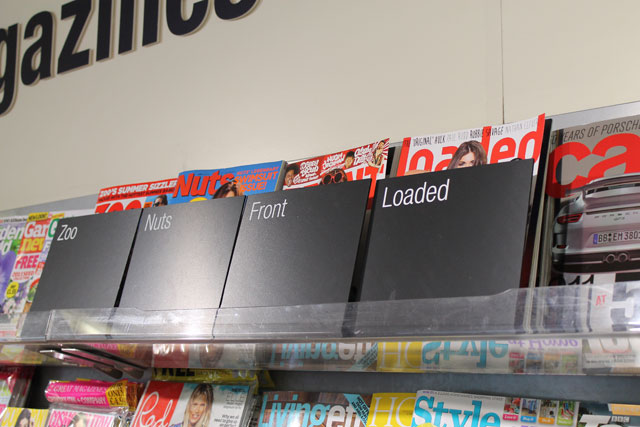 The call follows The Co-operative's ultimatum to the publishers of lads' mags to provide "modesty covers" or face a sales ban from its stores. Tesco is restricting the sale of these magazines to people over 18 and persuading publishers to design more modest covers.
A spokesman for Morrisons said: "We see it as there are two alternatives –we can do something unilaterally, or encourage the industry to have a unified approach on this. There are certain arguments for taking the industry approach."
He added that the advantage of industry-wide action would be so customers would know there was the same approach in whichever retailer they went into. Without a singular approach he said, it would be "very confusing" for shoppers.
The spokesman said: "So we are going to talk to the industry first to see whether we can reach an agreement to take some sort of industry-wide approach on the selling of lads' magazines."
When contacted by Media Week yesterday, spokespeople from Sainsbury's and Asda said they had no plans to join Tesco and the Co-op in putting in further restrictions on lads' mags. Both retailers already conceal the magazines behind a screen and place them on high shelves out of the reach of children.
The Sainsbury's spokesman declined to comment on Morrisons' call for industry talks and the Asda spokeswoman had yet to provide an updated comment.
In the BP petrol station chain, lads' mags are also currently displayed behind modesty panels on upper shelves.
A spokesman from BP said: "We're in discussion with the publishers and when they supply them ready-packed in modesty bags, we'll be taking those."
When Media Week asked a spokeswoman for The Co-op whether they would take part in cross-industry talks, she said they would "call on other retailers to follow our lead".
Bauer Media and IPC Media today rejected the Co-op's ultimatum to hide explicit images with modesty bags.
Both agreed with Tesco to make their covers more "modest", as has the independent publisher of the Front. They now use photographs of women wearing bras, rather than being shown topless with text obscuring the nipples.
Dennis Publishing agreed to supply Tesco with the alternative culture magazine Bizarre in a modesty bag.