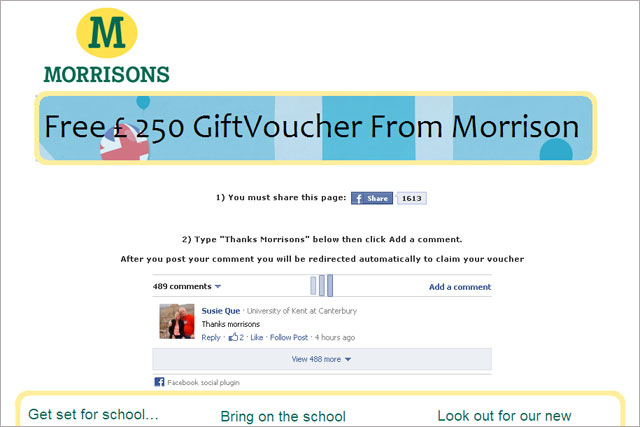 Facebook users are being encouraged to share a link on Facebook before being automatically redirected to claim a voucher.
The link features Morrisons branding and advertising for its back-to-school range, in an attempt to dupe Facebook users.
Anyone who tries to leave the page is told they are "today's winner" via a notification that encourages them to stay on the page in order to claim the fake prize.
Morrisons has posted a link on its Facebook page warning its fans of the scam and revealing it is not giving out free gift vouchers.
The statement says: "Warning: We'd like to remind our fans to not follow the instructions on the page 'Free £250 Gift Voucher From Morrison' that is being circulated around Facebook – this is a scam.
"Unfortunately, spammers have been pretending to be Morrisons when they have nothing to do with us. They may be trying to access your personal data and do not intend to give you a free gift voucher."
The Facebook scam is not the first of its nature and follows on from a scam that ran in December that played off the Tesco brand.
Tesco customers were encouraged to join Facebook event pages and follow a series of instructions in order to "qualify" for the non-existent £250 voucher.
Follow @mattchapmanuk