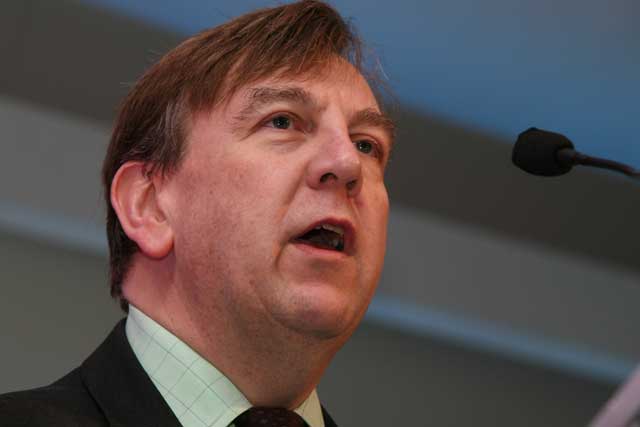 After more than seven months of investigation, Whittingdale, who is also chairman of the Joint Committee on Privacy and Injunctions, is set to report that he believes a key cornerstone to any workable, non-statutory newspaper regulation lies in the possibility that publishers could lose advertiser support if they step out of line.

The controversial proposals will be made public in a strongly worded report from the Joint Committee, due to be published next Tuesday (27 March). It is said to have been directly influenced by the role advertisers are perceived to have played in the closure of News International's Sunday tabloid, News of the World, last summer.

Speaking to Media Week, the Conservative MP said he believed having the UK's biggest advertisers on board could help maintain self-regulation, by successfully addressing the "Richard Desmond issue" – whose papers are currently not part of the PCC.

Whittingdale said: "We have looked in some depth about how we can create a self-regulatory system for the press that is going to be effective and impart confidence, which plainly the PCC [currently] doesn't. One of the big issues is, how can you, without statutory regulation, ensure that everyone signs up to it?

"David Hunt [new chairman of the PCC] is in the process of creating a new PCC. I think it presents an opportunity for advertisers to talk to David Hunt about how they can work with the new regulatory body and perhaps be involved at least in the discussions about new codes.

"They can then make clear that they would expect big firms seeking to place ads would choose to do so in a media outlet that chooses to sign-up to the [PCC] Code."
Advertisers could benefit from new role
Whittingdale was speaking after a presentation at ISBA's annual conference, in which he had urged advertisers to get better at demonstrating their importance and worth to the wider British economy.

Having referred to marketers as "the oil in the capitalist machine", the MP later expanded by suggesting the Joint Committee's upcoming proposals could also bode well for those operating in an industry all too often blamed for fuelling obesity, over-consumption and other anti-social behaviour.
"It [the tie-up with a new PCC] would demonstrate responsibility, a degree of commitment to ensuring that the kinds of abuses we have seen never happen again," he said. "At a time when advertising does have a challenge to get across that it's a power for good, this is a very obvious way in which they could demonstrate that."
Pushed to explain further how such a setup might work in practice, the backbench MP said: "Advertisers will be able to say to Richard Desmond, 'we are not going to place ads in the Daily Star or Daily Express, or whatever other media outlet he has, until you subscribe to the PCC.
"The advertisers [would be] demonstrating their support for self-regulation and the media. They are using the power of their advertising money in order to put pressure on publishers to subscribe."
Asked whether the move would force advertisers, who part fund much of the press, to in effect make a moral decision about its practices, Whittingdale said: "Yes, to some extent they are being asked to play their part.

"The impact of the Milly Dowler decision just showed that they have that power if ever they chose to use it.

"Corporate Social Responsibility (CSR) is one of the buzz phrases of the moment. Companies are expected to demonstrate they are good citizens in terms of their environmental practice, in terms of how they treat their employees, and all the other things, this is a way advertisers, who depend on the media, will be saying we also expect high standards from the media."
ISBA recognises 'serious challenge' for advertisers
Upon hearing the comments, Ian Twinn, director of public affairs at ISBA, cautiously welcomed the proposals as "a serious challenge for ISBA and all advertisers".
Recalling how the withdrawal of ads from News of the World during the week of 4 July, after allegations Milly Dowler's phone had been hacked, had played a dramatic part in events, Twinn said: "It's an interesting proposition. There is power there.
"If you had suggested it before we saw what had happened as News of the World was going into closure I would have said it's not going to work, but actually, with that experience I now think it could."
ISBA, the self-styled voice of British advertisers, has pledged to explore the developments of any new PCC code with all of its 400+ advertising members.
The committee's recommendations are not binding, but as a body of 26 MPs, 13 from the House of Commons and 13 from the House of Lords, all personally appointed by Prime Minister David Cameron, its views are expected to carry some weight and be given due consideration.
The suggestions of Whittingdale et al are also likely to impact on proposals put forward by the ongoing press inquiry being led by Lord Justice Leveson.
Whittingdale today confirmed: "We report to the Government, equally Lord Leveson reports to the Government, and I think the Government will take account of both Lord Leveson and us, and in due course will come out with its own view of how the media is to be regulating in the future in this country."
The ASA model suggested as a viable template
The new PCC reform package being constructed by Lord Hunt includes making newspaper publishers sign-up for a five-year minimum contract, with the possibility of fines for errant publishers.
Hunt's new PCC also intends to divide itself into two divisions; a new standards arm to investigate any "serious or systemic" breakdown in standards, such as phone hacking, and a "complaints and mediation arm", to handle corrections and other problem solving.
The proposals expected to be outlined by the Select Committee next week will push for further reform while noting if it fails, statutory regulation - ideally similarly to that of the ASA - would be their favoured next option.

"Essentially, we are going to say last chance," admits Whittingdale. "What David Hunt is proposing looks good, but it's got to be seen to work, and if it doesn't we will move to Ofcom backstop regulation, like the ASA.

"And there will be a parliamentary scrutiny to ensure that it is working. We are not just going to say get on with it. We will call them in regularly and check whether or not it's working."

However, as an experienced MP of the last 20 years, Whittingdale does not expect the committee's suggestions to be met with the sort of outrage and foot-stamping of times past.

He said: "The world has changed. Previously, when I recommended four years ago the Press Complaints Commission (PCC) should have the power to fine people who break their Code, the whole press said this is absolutely intolerable, they wouldn't even contemplate this. They have now come forward with their own proposals to impose fines.

"They know that essentially what has changed is that statutory regulation is a real possibility, unless they get something that commands confidence."
He said: "The model of the ASA is a very interesting one, because if you are going down the statutory road, then the ASA model is about the most acceptable, where you have a backstop Government body, which is Ofcom, devolving responsibility to an industry regulator. If you're going to have it, that's the way to do it. Personally, I would not even like that."
Follow Arif Durrani on Twitter @DurraniMix