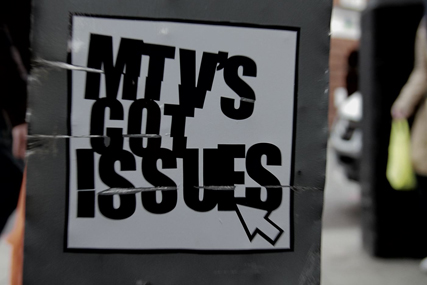 MTV News' 'Got Issues' bulletins will broadcast across its music video networks for the remainder of 2010 and will highlight current affairs, starting with a focus on the election.
The broadcast shorts will drive viewers to further reports on MTV's website, where they can watch extended bulletins and participate in polls.
The series begins with current musicians voicing their opinions. 'Vote 2010: Register, Research, Remember the date' will follow group NDubz as they encourage the general public to get involved in politics. Cameras will follow the group during one busy day and capture band members talking about the General Election and some of the issues they feel are most important for their generation.
The chart-topping band are known for their strong opinions and, when it comes to political issues, won't be shy to put their point across.
Lisa Stokoe, executive producer at MTV News, said: "The idea behind 'MTV's Got Issues' is to make sure we are highlighting the subjects our audience wants to learn about, but doing it in a way that is actually relevant to them and how they consume information."
N-Dubz's Fazer said: "Everyone keeps saying things are wrong, but if you don't vote, then how is that going to change? There is nothing we can do, but there's more that government can do, like putting it out there on a more positive level, and a street level as well."
'Vote 2010' is a similar initiative to 'MTV: Made to Vote,' which aired 45-second shorts before the 2005 election, featuring celebrity endorsements and vox pops encouraging young people to use their vote.
Stokoe said: "'MTV's Got Issues' will encourage young people to get involved and, in this case, to get voting and really affect the future of the UK."
Future topics to be covered include the environment, education and bullying.
The 'Vote 2010' bulletins will run up top the General Election on 6 May.