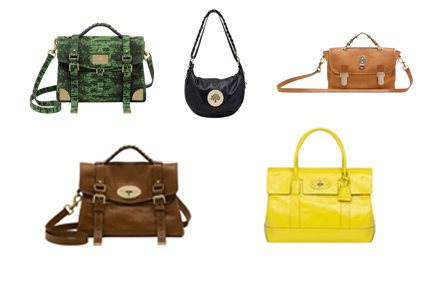 A simple idea predicated on making leather accessories has developed into the billion-pound fashion company Mulberry.
Beloved by fashionistas worldwide, its beginnings in deepest Somerset are part of Mulberry's strong British heritage, although it is now under foreign ownership.
In 1971, entrepreneur Roger Saul began selling leather belts to labels such as Biba and department stores in Paris and the US, using £500 from his family. As the company expanded, Mulberry became a quality label loved by 'Sloane rangers' for its simple designs.
In the late 90s, the company had expanded to Asia, but was hit by economic problems there, in addition to an increase in operating spend.
Amid staff layoffs and financial losses, a majority stake in the company was bought by fashion-business mogul Christina Ong in 2000.
Backed by Ong's fashion nous, Mulberry underwent an almost fairy-tale reinvention. She appointed British designer Scott Henshall, the first in a string of creative directors who would gradually push Mulberry into the realm of high-end fashion.
Henshall was followed by Nicholas Knightly and then Stuart Vevers, who was responsible for creating the classic Bayswater, the bestselling bag in Mulberry's history.
Successful collaborations with British designers such as Luella Bartley and Giles Deacon, alongside expansion to the US and the luxury market in Japan, boosted the brand's credentials. Mulberry bags were fast becoming a familiar sight on the arms of celebrities.
The appointment of creative director Emma Hill in 2007 solidified Mulberry's standing at the forefront of British fashion. Under her leadership came the Mitzy, Daria and Alexa bag, named after fashionista Alexa Chung.
Despite the recession, Mulberry has bucked the trend in British retail, successfully positioning itself as a premium brand. With a lower price-point compared with other leading designers, it has cornered the market in affordable luxury.
Sales of the brand continue to rise and 30% of production is still carried out in Somerset.
---
BRAND LESSON
Andy Knowles, chairman, JKR
Mulberry, the darling of this year's London Fashion Week, seems to be finally following Burberry's lead and cashing in on the booming luxury-goods market.
Mulberry is an exceptional maker of hand-tooled leather, yet it has taken almost half a century to develop a winning strategy. It's easy to see why from the outside. Mulberry overlooked a fundamental point - in designer brands, it's all about the design, stupid.
Perhaps its classic stippled finish was too narrow in appeal, or perhaps accessories are just too niche a market to sustain prime retail rents. Either way, after nearly sinking in the late 90s, Mulberry had to retrench and reinvent, importing star talent to help it craft a wider appeal. (Note to the financial director; in design-driven markets, never scrimp on talent. Creativity is your best strategy).
Cleverly marrying the brand's hunting, shooting and fishing heritage with the bold colours and playful decoration now loved by young, glamour-seeking consumers, a succession of creative directors has since crafted signature pieces. These include the Bayswater and Alexa bags, transforming Mulberry from problem child to fashion royalty in less than a decade.
Although ownership of the company was wrested from founder Roger Saul, at least the Eastern connections offered by current controlling shareholder, Christina Ong, mean Mulberry should continue to fly the flag for British design in the years to come.
---
TIMELINE
1971: Roger Saul began making leather goods from his Somerset home. A factory was soon set up in Shepton Mallet and local craftsman were hired as the business grew.
1998: Mulberry expanded its presence in Japan and entered the Middle East market with stores in Bahrain, Kuwait and Lebanon.
2000: Fashion mogul Christina Ong bought 42% of the company for a reported £7.6m.
2001: The company returned to profitability. A year later, however, it made a loss again, and Saul was ousted as chairman. He sold his remaining stake and stepped down as president in 2003.
2005: Mulberry won the accessory designer of the year award from the British Fashion Council.
2011: The company was valued at the £1bn mark after its stock rose significantly.
2012: The latest Mulberry must-have accessory, the Del Rey bag, was unveiled last month, named after singer Lana Del Rey.