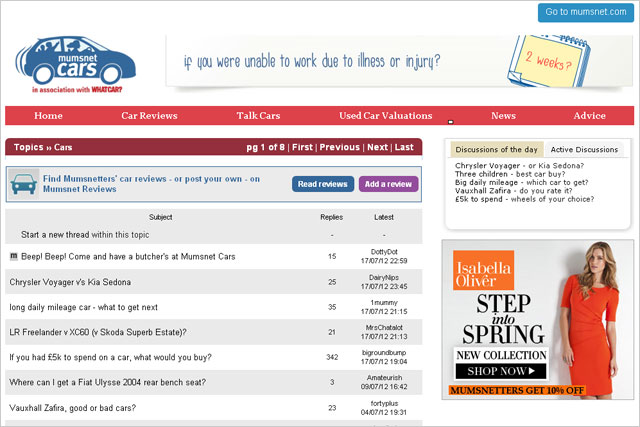 The reviews section will seek to offer straight-talking answers to common questions that Mumsnet users have about cars, which will sit alongside expert insight provided by the Haymarket-owned What Car? magazine.
Mumsnet's car microsite, Mumsnet Cars, has been set up to fill a "gap in the market" for clear and family friendly advice.
The site will also include a tool that will calculate the value of a used car, as well as advice on buying, selling and running a car.
Justine Roberts, chief executive and co-founder of Mumsnet, said: "When it comes to buying cars, we know that priorities change once people start a family and that parents are looking for safe, economical and practical cars, without the hard sell.
"Eighty per cent of our users seek advice or read reviews on Mumsnet when they are planning to buy a child-related product, and, judging from the number of car discussions on the site, there's a clear need for similar advice when it comes to cars."
Mumsnet surveyed its users to find out about what recommendations they would trust when buying a car, to coincide with the launch of its new service.
Some 48% of respondents said they would not trust any celebrity recommendation, while 77% said that a recommendation from a friend or a relation would be influential.
Follow Matthew Chapman at @mattchapmanUK