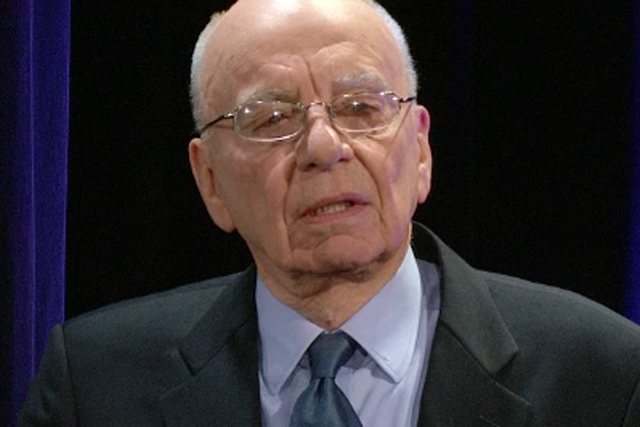 Murdoch has emailed staff (see the email below) in addition to visiting News International's UK offices today to talk to staff in the wake of several arrests of Sun journalists on suspicion of corruption.
In the email the News Corporation chief executive stresses his backing for the paper and commits to lift any suspensions of arrested staff "until or whether charged", with News Corporation covering their legal expenses. He also promises to stay in London "for the next several weeks".
The arrests were made as part of Operation Elveden, one of three Metropolitan Police inquires looking into phone-hacking, bribery and computer hacking.
The police were acting on information passed to them by News Corporation's Management and Standards Committee, the body charged with examining internal evidence of wrongdoing by journalists.
At the end of January Murdoch used Twitter to describe a report that the launch of a new Sunday tabloid had been put on hold because of the arrest of four Sun journalists as "100% wrong".
Earlier this week we reported News International was seeking to reassure key advertisers and agencies that it is business as usual at The Sun despite the arrests of another five Sun journalists on 4 February.
Murdoch's email reads:
Dear Colleagues:

I've worked alongside you for 43 years to build The Sun into one of the world's finest papers. It is a part of me and is one of our proudest achievements. The Sun occupies a unique and important position within News Corporation.

I have immense respect for our heritage, your exceptional journalism and, above all, you, the talented women and men who work tirelessly every day to ensure our readers have access to such a trusted news source. I believe this newsroom is full of great journalists and I remain grateful for your superb work and for the stories you uncover to inform and protect the public. None more so than over the last three weeks.

My continuing respect makes this situation a source of great pain for me, as I know it is for each of you.

We will obey the law. Illegal activities simply cannot and will not be tolerated – at any of our publications. Our Board of Directors, our management team and I take these issues very seriously.

Our independently chaired Management & Standards Committee, which operates outside of News International, has been instructed to cooperate with the police. We will turn over every piece of evidence we find -- not just because we are obligated to but because it is the right thing to do.

We are doing everything we can to assist those who were arrested -- all suspensions are hereby lifted until or whether charged and they are welcome to return to work. News Corporation will cover their legal expenses. Everyone is innocent unless proven otherwise.

I made a commitment last summer that I would do everything I could to get to the bottom of our problems and make this Company an example to Fleet Street of ethical journalism. We will continue to ensure that all appropriate steps are taken to protect legitimate journalistic privilege and sources, which I know are essential for all of you to do your jobs. But we cannot protect people who have paid public officials.

I am confident we can live by these commitments and still produce great journalism.

We will build on The Sun's proud heritage by launching The Sun on Sunday very soon. Our duty is to expand one of the world's most widely read newspapers and reach even more people than ever before.

Having a winning paper is the best answer to our critics.

I am even more determined to see The Sun continue to fight for its readers and its beliefs. I am staying with you all, in London, for the next several weeks to give you my unwavering support.

I am confident we will get through this together and emerge stronger. Thank you,
A new Campaign for a new breed
New ideas, new perspectives, new focus
Register for tailored email bulletins today and let us deliver the insight that you need
Register Now
---