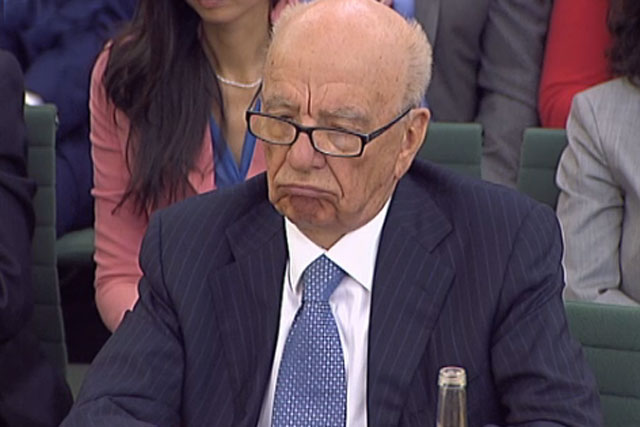 Before proceedings were suspended by an attack on Rupert Murdoch, the committee heard around 90 minutes of evidence.
Murdoch said the 168-year-old Sunday red-top was closed as it had "broken the trust with its readers".

Asked by MPs if News International, News Corp's UK publishing subsidiary, planned to launch a replacement Sunday tabloid, the octogenarian media mogul said no decision had yet been taken.

News International took ownership of the web domain names SunonSunday.co.uk and thesunonsunday.co.uk last week. However Rupert's son, James Murdoch, News Corp's deputy chief operating officer, told MPs there were no immediate plans for a launch, as he gave evidence alongside his father.

"This is not the time to be worrying about that, the company needs to move forward on those other things," Murdoch Junior said.

When he started giving evidence, Murdoch Senior described his appearance before the Culture, Media and Sport Select Committee examining issues around the phone hacking scandal as "the most humble day of my life".

Reading a prepared statement at the start of the session, he apologised to all victims of phone hacking.

He added: "I would like all the victims of phone hacking to know how completely and deeply sorry I am.

"Apologizing cannot take back what has happened. Still, I want them to know the depth of my regret for the horrible invasions into their lives.

"I fully understand their ire. And I intend to work tirelessly to merit their forgiveness."

Murdoch Snr added that he had been was "shocked, ashamed and appalled" to discover The News of The World was accused of accessing the voicemail of murdered teenager Milly Dowler, adding that he only found out two weeks ago that this was the case.

In his first appearance before MPs during his near half-century of newspaper ownership in the UK, Murdoch hesitated on a number of questions, often answering "I don't know" or "I don't remember".
He said he had no knowledge that phone hacking was more widespread than had originally been claimed, adding that he had "clearly" been mislead by members of his staff.

Murdoch Senior said the company had a "zero-tolerance approach" to wrongdoers and that the company was now co-operating fully with the police to bring people to justice.

Asked by MPs about accusations that the families and victims of 9/11 had their phones hacked and a possible FBI investigation into the matter, Murdoch Snr said he had seen no evidence of that but if true News Corp's internal inquiry into the scandal would investigate.

Jim Sheridan, Labour MP for Paisley and Renfrewshire North, asked Murdoch Snr if, as the head of the company, he was culpable for the hacking scandal. He replied that he was not. Asked who was responcible, Murdoch said "the people I trusted to run it, and the people they trusted".

However, when asked if Rebekah Brooks or Les Hinton had knowledge of phone hacking, Murdoch Senior said he was not aware of any evidence that they had any knowledge.
Murdoch Snr said he had no knowledge of payments made in 2008 as part of legal settlements with PFA chief Gordon Taylor and publicist Max Clifford by his UK publishing subsidiary, News International.

Murdoch Jnr then interrupted and said his father found out about the out-of-court payments when they were made public by a newspaper in 2009.

The payments had been made to the pair to prevent them bringing civil actions against the News of The World newspaper for illegally hacking their mobile phones.

James Murdoch, who earlier this month admitted to sanctioning those payments, said at the time he was advised to settle the Taylor case, which is understood to have cost £700,000, as the company was likely to lose any potential trial.

He said the facts of the case related to the conviction of private investigator Glenn Mulcare in 2007 and were not in dispute, adding that outside counsel advised him that a trial could cost £500,000 to £1m if it went to court and they lost.

James Murdoch said: "There was no reason at the time to believe that this was anything but a settled matter, it was in the past, settlement was made in that context."

Murdoch Junior said the corporate decision to pay the settlements was made at the UK level - by him in his former role as chief executive of News Corp in Europe and Asia – as the amounts involved were not sufficiently high for the matter to be passed further up the organisation.