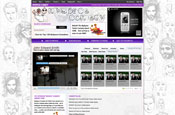 Launching today (Friday), the MySpace Comedy channel will host Comedybox.tv, an online comedy platform developed by Warner.

MySpace will host the overall site and retain advertising control, with Warner overseeing the channel's video content and managing the site's direct-to-consumer store via uk.myspace.com/comedybox.

The new channel will include rare clips from major comedy acts, specially created shorts from new acts, animations and user-generated content.

Separately, MySpace UK has partnered with chewing gum brand Trident, to launch the "MySpace Trident Comedy Awards" - a competition to find the best-up-and coming UK comedian.

From now until the end of September, performers will be invited to submit short video clips which best demonstrate their skills. An expert panel will select 15 semi-finalists, from which the MySpace community will vote for their top six.

Dom Cook, head of entertainment, MySpace UK, said: "MySpace Comedy is another example of how MySpace continues to innovate and break new ground on the social web."

The Comedybox label, which is operated by Warner as a stand-alone entity, will continue to sign comedians discovered through their video postings on the online channel. The imprint currently encompasses audio-visual comedy releases, TV production, live tours and a mobile version of the Comedybox site.