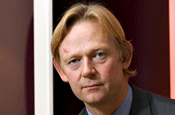 Nabs, which in the past two years has been approached by more than 7,000 people for help, needs an annual income of £2.2 million to sustain its activities.

However, Woodford takes over at a time of growing concern by Nabs executives that the burden of financial support for the charity is being born by too few companies.

Woodford succeeds Bruce Haines, the former group chief executive of Leo Burnett London, who has resigned following his move to Seoul to become the global chief operating officer of Cheil Worldwide.

His appointment is a case of history repeating itself, Woodford having taken over from Haines as the IPA president five years ago.

Nabs is eager to dispel the perception that it exists mainly to help older industry staffers.

Speaking at the Nabs president's breakfast, Carole Butler, its acting chief executive, said just one-quarter of the calls for help came from 40- to 57-year-olds.

Fifty per cent of callers were aged under-35 and 20 per cent under 25. Their problems ranged from redundancy and bullying, to pregnancy and contractual issues.

"Some companies are generous," she added. "But I'm sad to say, I'm shocked at the lack of support from others."

The Ron Miller Award, made each year to someone who has made an outstanding contribution to Nabs, went to its former president, Jeremy Bullmore.

McCann Erickson was named Supporter of the Year for its work in providing the promotional material for the Big Bash, the annual event that raises more than £1 million for Nabs, and for helping to raise the charity's profile in the regions.