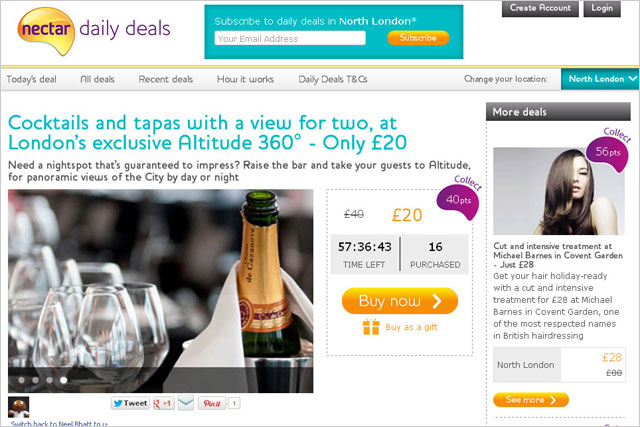 Nectar believes its new service will have a competitive advantage over rivals such as Groupon and LivingSocial, as its loyalty scheme has built up trust in consumer's eyes.
Nectar Daily Deals launches on Wednesday. It has deals from partner brands including Ford, Piaggio and Strada.
Users will earn two Nectar points for every £1 spent on a deal, which the service claims makes it unique from other daily deals sites.
It launches with London specific deals which include dining, beauty, homeware, gadgets and travel.
Deals at launch include Piaggio scooters, for less than half price at £1,000 and Ford Ka, normally sold at £8,725 for less than half price.
The service will be rolled out to Birmingham, Bristol, Glasgow and Nottingham over the year, with more UK cities to follow the following year. It is not limited to Nectar's 18.5 million collectors.
It launches with a heavy weight promotional campaign, which includes a two week partnership won the Capital FM Breakfast show, and a week long promotional series in the Evening Standard, as long as direct and digital marketing activity.
Speaking to Marketing, James Frost, marketing director for Nectar, said: "We are always looking for new and different ways for our collectors to earn points. [We] thought the daily deals market was a very innovative way we could expand the range of ways collectors can earn points."
He said that the service will be more personalised than existing ones, building on what Nectar already does.
Nectar also plans to send one email a day with the deals to consumers, and capture all areas interested in a summarise, rather than three or four a day, which Frost said can "get a bit annoying".
He said: "We thought we could bring something distinctive to the market in terms our trusted reputation, a more friendly contact strategy with our customers than some of the other daily deals sites out there."
He explained that prior to launch, Nectar's research showed it to be a brand that consumers trust.
Frost said: "Because of that I think we will bring new people to the deals market, who probably won't have bought them before."
The Office of Fair Trading has clamped down on daily deals sites over the past year, amid growing concern from consumers, that their advertising is misleading.
Last month the regulator sent warnings to 35 daily deals sites, including KGB Deals and LivingSocial, informing them their business practises must be in line with the ruling of the a recent investigation into Groupon.
According to Frost, Nectar has signed up to a code of contract, drawn up by the Global Daily Deals association, which includes promises about being clear about the number of units available, and time frame, no quibble money back guarantee.
"It is important brands like Nectar, which have a strong reputation with customers, operate in an honourable and respectable way."
While there is tough competition in the crowded daily deals market from the likes of Groupon and LivingSocial, brands such as Time Out and BP have also branched out into the area.
In March, Media Week revealed that national and regional newspaper publisher Trinity Mirror was entering the daily deals fray with its own service, Happli.
Follow Sarah Shearman on Twitter @Shearmans