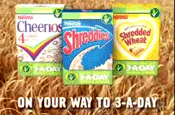 The ad's voice-over claimed that experts recommended people eat three servings of wholegrain a day, and that the cereals would help reach this target.

However, the Advertising Standards Authority said the use of the phrase "On your way to three a day" could be confused with the government's target for five portions of fruit a day.

The ASA judgement said: "...we understood that only some experts had recommended that specific amounts of wholegrain should be eaten on a daily basis, and that others, such as the FSA, had made a broader recommendation that people should increase their intake of fibre in general."

The ad received seven complaints, and the ASA ruled the ad should not be shown again.