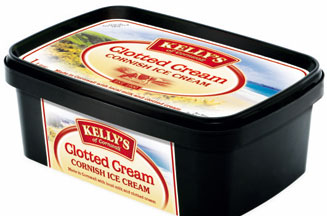 Any product for which purchases are tied to the notoriously unpredictable British climate faces a huge marketing challenge. Like the recession, poor weather tends to have a dampening effect on sales.
For ice-cream brands, the impact of the downturn and this summer's inclement weather is compounded by increasing worries about obesity levels - particularly in relation to children. It seems the British have become as concerned about controll­ing their growing waistlines as their rapidly diminishing finances.
Even once 'super-premium' brands, such as Häagen-Dazs and Ben & Jerry's, are strengthening their volume sales, with two for £5 deals becoming the norm. This has led to accusations from observers that the sector is over-reliant on discounting.
However, consumers have also shown a healthy appetite for affordable treats during the recession. As a result, far from facing meltdown, the ice-cream market is surprisingly buoyant.
Unilever dominates the sector with an estimated 65% share of the UK market, which is worth £1.3bn annually. Its success is due in no small part to Magnum, the market leader in its category.
This summer a problem at a Unilever distribution plant in Gloucester held up delivery of some of the UK's biggest ice-cream brands, including Wall's and Carte D'Or as well as Magnum. The problem presented a gift to Unilever's competitors, which rushed to fill the gap.
It is an open secret in the industry that several brands are plotting to take on Magnum, with Cadbury being the obvious front-runner. One frozen-food buyer from a major multiple claims the discussion has gone beyond 'it's not if, but when' a comp­etitor launches a rival brand, to 'why has it taken so long in the first place?'
'Compared with other categories, there is an argument that Magnum has had an easy ride and the longer its market domin­ance has remained unchallenged, the stronger it has become,' he adds.
Charlotte Hambling, senior marketing manager at R&R Ice Cream, which owns the Fab and Skinny Cow brands, says the UK ice-cream market is extremely price-driven and it is increasingly difficult to achieve cut-through without resorting to heavy discounting.
'Ice cream is really well-placed to benefit from being a quick feel-good factor during the recession,' she says. 'How­ever, it's key to build loyalty rather than rely on discounting.'
The biggest challenge for ice-cream manufacturers in the off-trade market is gaining listings in supermarkets. While shelf-space is at a premium in any category, this is particularly true of freezer aisles, which have been slimmed down in many supermarkets.
The loss of storage space for ice cream extends to the home, where the rising trend of single-person households, combined with environmental concerns, could lead to a fall in the number of domestic freezers.
Originally portraying itself as a challenger brand, Ben & Jerry's is now owned by Unilever, making it more tricky for it to play the lovable underdog.
Simon Williams, a partner at Polestar Communications, which recently handled the UK-wide roll-out of Kelly's Cornish ice cream, says that 'category killers' such as Ben & Jerry's are polarising the market for ice cream. 'Many brands aren't supported by any marketing apart from price promotions, which simply drives the margins down,' he adds.
Everyday appeal
According to Mintel, although ice cream is already enjoyed relatively frequently by the majority of consumers, the balance of sales needs to be shifted to higher-priced items to bolster the sector's value. Making ice cream an all-year-round snack and stealing occasions for consumption from biscuits, yoghurt and chocolate are seen as key to growing volume sales.
With many brands selling at a price point of just £1, it is little surprise that some com­panies are looking beyond supermarkets to build their markets. Ben & Jerry's has 500 stores worldwide, but half of these are in the US. Starbucks is also looking to get in on the act, and, in the US, Unilever has struck a deal with the coffee-shop chain to launch a branded
ice cream.
While Britain may not have the same ice-cream parlour culture as the US or the Italian tradition of gelateria, brands are springing up designed to bring a higher standard of ice cream directly to the consumer.
Breaking the mould: The Icecreamists
As one of the founders of the fathers' rights group Fathers 4 Justice, Matt O'Connor is no stranger to stirring things up. The organisation achieved the kind of publicity money cannot buy with eye-catching stunts ranging from pelting Tony Blair with condoms full of purple flour during Prime Minister's Questions to a protester dressed as Batman scaling Buckingham Palace. These activities put O'Connor on the front pages and landed him in some tense and challenging situations.
However, the veteran campaigner is on a new mission. While bringing fresh artisanal Italian gelato to the British public might appear frivolous when compared with winning rights for fathers, O'Connor is just as serious about it. He also claims that his latest objective chimes with his idealism, joking that he wants to liberate the world 'one lick at a time'.
Next month, O'Connor is launching The Icecreamists ice-cream brand. Created by gelato master Roberto Lobrano and with its first store opening inside the Selfridges department store
in London, the brand's stated aim is to become the 'Hard Rock Café of the ice-cream world'. The store concept will include a house band and a cinema.
As creative director of Frederick's, the ice-cream producer licensed to manufacture Cadbury and Del Monte products, O'Connor is hitting the market from a position of strength. He says the difference between genuinely fresh ice cream and the mass-produced version is huge. He points out that fresh ice cream has a lower fat content and a completely different texture. O'Connor has been involved in every aspect of the business from the product development to branding and marketing.
'There is no challenger brand in the market any more,' he says, referring to the dominance of Unilever's Ben & Jerry's brand. O'Connor accuses other manufac­turers of suffering from a 'poverty of imagination' that The Icecreamists aims
to address.
Members of The Icecreamists' brand team are creating their varieties from scratch, travelling to Bologna in Italy to source the ingredients and coming up with a seasonal menu. O'Connor charac­terises the proposition as 'boutique ice cream' and says he pays close attention
to provenance and quality.
The brand, which is aimed primarily at 18- to 25-year-old women, will be backed with irreverent, 'punk' marketing. Flavours will be launched in two collections - a spring/summer range focused on lighter fruits and an autumn/winter line skewed toward richer chocolate flavours.
O'Connor is relishing the freedom of operating without brand guidelines and supermarkets' prescriptive margins.
Frederick's recently launched its own brand, Antonio Federici Gelato Italiano, with some racy ads, including one depicting a priest and a nun that was banned by the ASA. However, it must tread carefully with its more mainstream licensed brands.
'The supermarkets have defined views on category space, and some of the big players have strangled the space,' he says. 'Bringing new things to market that people haven't tried before is a leap of faith and there is no middle ground.'
The team is also looking at sites in areas such as London's Covent Garden, and aims to open stores in New York and other cities. 'There is no doubt that things are very tough in the UK at the moment. People are looking for a smile and we are offering them a bit of sunshine,' says O'Connor. 'We are going to make Heston Blumenthal look like Ronald McDonald by the time we have finished,' he adds.