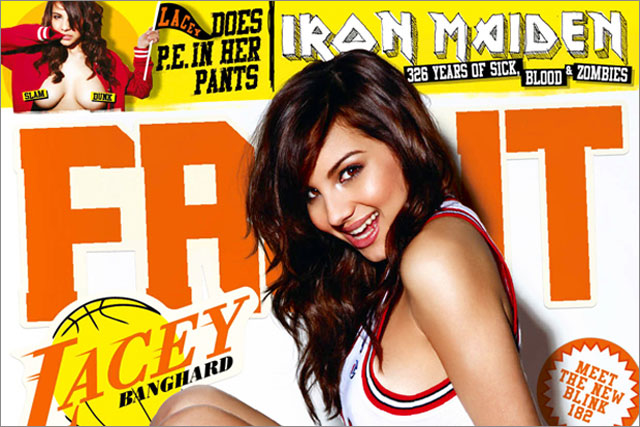 Steve Beech, previously art director of the lads' monthly magazine, has just published his first edition of the magazine as editor.
He replaced Joe Barnes, who jumped ship to join Bauer's rival FHM magazine last month.
Beech said a key priority is to attract big-brand advertisers, alongside its roster of independent advertisers, to help take the magazine forward.
Currently, the magazine predominantly features advertising from small fashion retailers and extreme sport advertisers, such as skating brands.
It would be a big achievement if Barnes and his commercial team were able to attract big-name advertisers, as they have previously tended to shy away from the magazine.
Speaking to Media Week, Beech said the magazine under his tenure will target corporate advertisers, such as Nike, by increasing coverage of extreme sports and placing greater editorial focus on high-profile skateboarders such as Paul Rodriguez.
Beech said: "We don't want to drastically change Front – it has always been pushing the boundaries.
"It will stay edgy [but] we are also hoping to attract names and bigger companies to the magazine."
The changes to the magazine, Beech said, would be to bring in name brands – to reflect the fact that the magazine was being taken more seriously commercially – without alienating the independents.
He added: "We want a nice mix, sitting them all together without conflict."
Primarily seen as a magazine featuring scantily clad, tattooed young women, street fashion, music and sports, Front was bought by millionaire Dominic McVey, who now acts as publisher, in 2009.
In November, McVey complained to the Office of Fair Trading about Sainsbury's refusal to stock the title.
McVey claimed Front was missing out on about 2,000 copy sales a month because it was not available in the supermarket. He said the magazine was being unfairly ostracised by Sainsbury's, given that it was sold in Asda, Morrisons, Tesco and other high-street stores.
He claimed Sainsbury's magazine buyer had an issue with the nudity on Front's cover, but the publisher had subsequently toned down the imagery.
Publication earlier this month of the Bailey Review could similarly threaten to have a negative impact on the title, and the sector as a whole.
The review on the commercialisation and sexualisation of childhood called for the covering up of sexual images on the front pages of magazines, so that they are not within easy sight of children.
Beech told Media Week that it could have "massive" ramifications for his title, but the magazine is likely to have "something up its sleeve" should it come to pass.
However, this wouldn't be an issue for Front alone.
The independent magazine competes against a roster of monthly magazines – the majority owned by major publishers – such as Loaded and FHM, and weeklies including Zoo and Nuts.
According to the Audit Bureau of Circulations (ABC), Front remained relatively immune to the great declines suffered by bigger-selling rivals, as it registered a circulation of 38,645 in the period July to December last year, a fall of 7.9% year on year.
As part of the new commercial drive, the magazine will complement its traditional promotion across social media by co-sponsoring a stage at the up-coming Heavy Festival with footwear brand Etnies.
Beech said the magazine would also look to co-sponsor further music events next year and push the title's championing of smaller, young bands.
The magazine would maintain focus on its traditional editorial areas, Beech said, but would undergo a "refresh" to place greater emphasis on higher-quality editorial photography and make the title a "slicker" offering.
He added: "We have perhaps not grown up as fast as our readers and we need to do that."