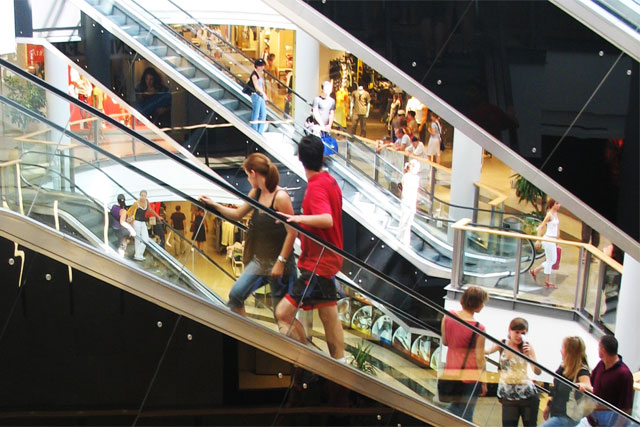 One of the clearest current trends among shoppers is the increasing reliance on connected devices. With the adoption of smartphones and tablet computers on the up, there will be a seismic shift in how we shop and buy in the near future. Ipsos ASI has identified three key themes around which we see this trend evolving:
Fast: instant gratification

From the growth of the 'treat me' culture that has become increasingly embedded in our psyche, to our growing impatience to wait, consumers want instant gratification - especially when it comes to shopping.
An oft quoted statistic on the web that illustrates the importance of fast for ecommerce is that one in four people abandon a web page if it takes more than four seconds to load.
Smartphone apps can make the shopping experience even quicker and more seamless, which goes some way to explaining why eBay was the third most popular app on the Apple top 25 free app list in terms of downloads this year.
In fact, an Interactive Advertising Bureau (IAB) study in 2011 found that, while the incidence of consumers shopping via mobile remained stable, spend per transaction on mobile increased by 43% from 2010-2011 to £17.49. This suggests that a proportion of consumers are starting to lean towards mobile as an accepted, safe shopping method.
In fact, the study highlighted a change in the reasons why people use mcommerce, as it moves away from being seen as an experiment (25%), towards being the easiest way to do it (42%).
Projects such as eBay's same-day delivery service - which is currently being tested in San Francisco with big name retailers including Toys 'R' Us, Target Corp and Best Buy Co - will only serve to make commerce faster and more convenient.
In the near future it will not only be quicker and easier to complete transactions, but consumers will be able to receive goods quicker and cheaper than ever before.
While new technology undoubtedly quickens the pace of commerce, it also raises consumer expectations.
In a recent IAB study on tablet advertising conducted by Ipsos MORI, three key findings stood out:
Over three in four tablet users interviewed shopped via their tablet (76%).
3 in 10 viewed advertising they had seen on tablets negatively (16% had a positive view).
Interactive ad formats were viewed more positively (54% of those exposed to interactive ads viewed them positively v 27% for static ads).
It is interesting to note that, according to consumers, advertisers need to pull their socks up and utilise the capabilities of connected devices to communicate with them in an interactive, sociable and shareable way.
Slow: give me a reason to buy

Although connected devices mean consumers can shop whenever and wherever they choose, according to the Office of National Statistics (ONS) levels of disposable income are at their lowest levels since 2005.
As we collectively tighten our belts, there are indications our spending patterns are changing. For example, Michael Sharp, chief executive of Debenhams, commented recently they have observed a move to pay day shopping.
Because of this trend, providing reasons to tempt consumers to visit the high street is more important than ever.
Targeting and creating occasion based imperatives to buy have increased in recent years, and retailers are focusing on specific events - from Father's Day to the Jubilee - to create new products and reasons to instigate meaningful conversations with customers.
Promotions are also increasingly useful in tempting shoppers to buy, especially as 47% of consumers now say they will only buy certain items if they are on sale/offer/promotion.
Know me: digital loyalty

Shoppers are becoming increasingly more savvy, and the ability to search for the cheapest price online, via your mobile, or whilst in-store is making it far more important for retailers to compete beyond the lowest possible price.
Consumers are looking for a reason to remain loyal, and retailers are responding with the likes of personalised shoppers, creative experiential strategies such as the creation of pop-up shops and flagship stores, and mobile applications.
When it comes to mobile applications, great leaps forward are being seen in the area of mobile payment and the UK has seen the launch of several new mobile payment apps in 2012.
The Ipsos Global Mobile Payments study, launched in November 2011, found that while there is interest in trialling mobile payment methods, security is still a key concern.
In saying this, consumers are slowly embracing the convenience of a digital app that can, for example, remember what you buy, when you buy and can predict what you need.
Applications of this kind can only enhance loyalty, as repeat purchasing becomes easier, and retailers benefit from the ability to understand more about shopper's behaviour, motivations, as well as being handed the opportunity to engage beyond the physical store.
The potential impact of augmented reality apps, internet TV or QR codes is a separate conversation entirely that points towards a future that is bright for commerce.
What's next?

Retailers certainly have more ways to connect with customers than ever before, and consumers are taking advantage of the vast number of channels and devices that allow them to shop anytime, anywhere and quicker than ever before.
The pace of change in the next few years will be fast, and retailers must be ready to respond to consumers raised expectations and their desire for quicker, more convenient, cheaper and more personalised commerce. The question is simple: are they ready?
Louise Brice, research director, Ipsos ASI