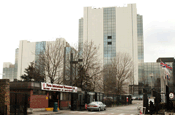 The media group, founded by Rupert Murdoch, has ruled out a move to three shortlisted developments in the City and Canary Wharf.

It has appointed architects Future Systems to design a redevelopment scheme on the existing site.

All News Corporation's business arms including News International, Harper Collins, MySpace, Dow Jones, Fox and related businesses will be move to the redeveloped site.

The company said it hopes to complete the project at the 20-acre site in time for the London Olympics in 2012.