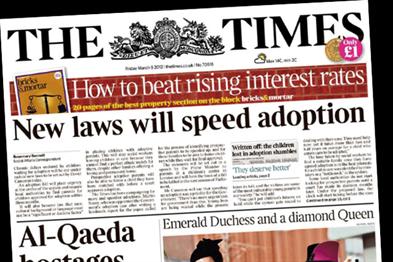 On Friday (9 March) ABC reported average sales of 397,549 for The Times in February, its lowest on record since Rupert Murdoch began an aggressive price war in 1993.
News International has now released new figures for The Times' digital subscribers for the same month, of 129,007, resulting in an unverified total paid audience of 526,556 for The Times.
The publisher, which famously erected paywalls around The Times and Sunday Times websites in the summer of 2010, said the combined total represents a year-on-year increase of nearly 1,594 sales between February 2012 and February 2011.
There is no such growth story for the The Sunday Times, however, which reports 124,136 digital subscribers resulting in a total paid audience of 1,063,531, down slightly from 1,120,628 the year before.
A News International spokesperson added: "The number of digital subscribers to The Times and The Sunday Times has continued to grow month-on-month, with subscriptions to The Times rising by nearly 10,000 in February compared to January. The Sunday Times saw a rise of over 10,000.

"Meanwhile, the number of readers on the iPad continues to increase. In February, an average of 55,823 copies of The Times were downloaded daily on the iPad, a 26% increase since September 2011."

The average number of The Sunday Times iPad edition downloaded in February was 72,223. This is a 104% increase since Sept 2011.

The Times and The Sunday Times are available for download on all platforms and devices including Android, Amazon Kindle and iOS5.
Unverified News International digital figures combined with official ABC figures.
Total Paid for Sale - The Times
ABC Print Circulation
Total digital subs
Total Paid for Sale
Feb-11
445,962
79,000
524,962
Jun-11
440,581
101,036
541,617
Sep-11
429,554
111,036
540,590
Oct-11
417,197
112,616
529,813
Nov-11
413,233
116,134
529,367
Dec-11
409,060
116,902
525,962
Jan-12
405,113
119,255
524,368
Feb-12
397,549
129,007
526,556
League Tables
Total Paid for Sale - The Sunday Times
ABC Print Circulation
Total digital subs
Total Paid for Sale
Feb-11
1,045,495
75,133
1,120,628
Jun-11
1,000,848
97,004
1,097,852
Sep-11
984,223
105,594
1,089,817
Oct-11
967,990
107,569
1,075,559
Nov-11
967,615
110,569
1,078,184
Dec-11
935,442
110,024
1,045,466
Jan-12
967,975
113,818
1,081,793
Feb-12
939,395
124,136
1,063,531
Follow Arif Durrani on Twitter: @DurraniMix