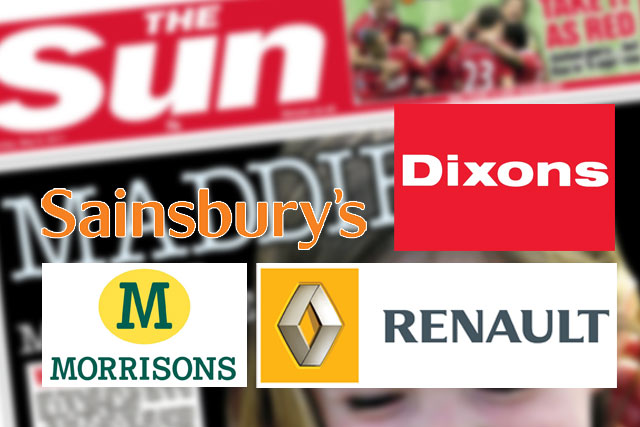 Media Week understands News International's commercial leader, Paul Hayes, has contacted leaders at WPP, Omnicom, Publicis Groupe, IPG Mediabrands and Havas agencies. He is said to have included, and added to, comments made by chief executive Tom Mockridge in a leaked email on 28 January.

The email which states News International is "confronting past mistakes and is making fundamental changes" to the way it operates, is believed to include a request from Hayes for agencies and advertisers to contact him directly if they have any further concerns or questions.

Some of The Sun's leading advertisers, which include retailers Morrisons, Sainsbury's, Dixons and the Home Retail Group, and the car manufacturers Renault and Mitsubishi, are also understood to have been contacted by Hayes.
The email reveals News International's determination to prevent its commercial operations from suffering as the result of negative sentiment driven by some recent media revelations.
An agency source confirmed: "Yesterday we did receive some calls from clients [advertisers] of The Sun, expressing concerns and seeking advice. Whether these had been whipped up by journalists contacting them for comment or genuine concern is debateable.
"We did inform the commercial team at News International about the nature of these calls."

The latest communiqué follows five senior Sun journalists being arrested by the Metropolitan Police on Saturday (4 February) on suspicion of corruption, as part of operation Elveden, one of three Met inquires looking into phone-hacking, bribery and computer hacking.

It brings the total number of arrests of current and former Sun staff to nine in the past two weeks, including the deputy editor.
The Met's actions have been condemned by The Sun's associate editor Trevor Kavanagh as a "witch hunt", fuelled by a perceieved over-eagerness on the part of News Corp's own internal investigatory body (Management and Standards Committee).

For News International, this week's developments will have re-awakened painful memories of last summer, when a sudden tide of public negative opinion led to concerned advertisers pulling out of the News of the World, and ultimately precipitated the tabloid's demise.

In other echoes of events last summer prior to the News of the World's collapse, News Corp boss Rupert Murdoch is once again due to touch down in London this week in an attempt to combat increasing internal and external tensions.

However, several agency sources added that in their opinion, any similarities between the events surrounding the News of the World and concerns surrounding The Sun were entirely peripheral.

One said: "The general mood and circumstance surrounding these events are entirely different. There is no public moral outcry like that experienced over allegations of hacking Milly Dowler, and at present there seems to be no fear of contagion to The Sun as a brand. We have been vocal in telling clients that."

Another highlighted that advertisers in News of the World faced unprecedented pressure from a concerted social media campaign, and that there had been no such organised activity to-date surrounding The Sun.

However, speculation is mounting that the recent arrests at The Sun have effectively kyboshed any plans to publish a Sun on Sunday any time soon. It is understood that the possibility of launching a Sun on Sunday had been aired to agencies pitching for News International's £28 million advertising review last month.

Last week the business was awarded to Sir Martin Sorrell's WPP and will result in a multi-disciplinary unit called Team News.

A News International spokesperson confirmed top agencies and clients had been contacted by Paul Hayes this week but declined to comment further.
Follow Arif Durrani on Twitter @DurraniMix