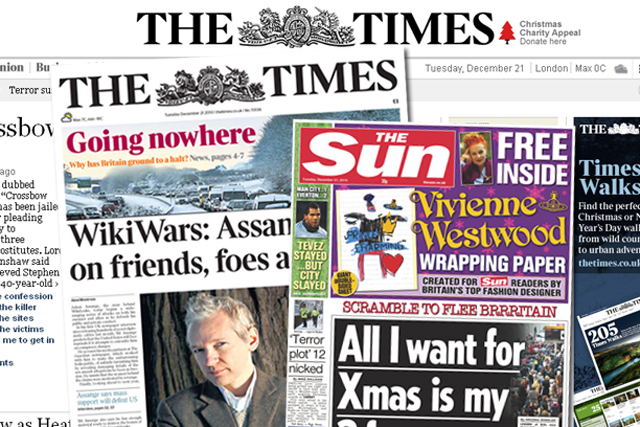 News Group Newsapers Limited, publisher of The Sun and the News of the World, recorded pre-tax profits more than doubled to more than £88m, while Times Newspapers almost halved its losses to £45m.
The accounts, filed at Companies House, run up to 27 June 2010, and show a marked improvement for both stables of newspapers.
Turnover at News Group came in at £654m compared to £639m in the period, while pre-tax profits were up from £40.2m to £86.1m.
The company directors attributed its improved performance "to an increase in advertising revenue".

It said: "The Sun delivered a record year for advertising, while both titles have seen higher colour display revenue compared to the prior year.
"There has been strong growth in retail advertising, particularly from the major grocers, and from the motor industry. The World Cup also delivered significant incremental advertising revenues."
In the period, News Group Newspaper started on plans to broaden its revenues away from a reliance on print media.
In October last year, the News of The World introduced a paywall. Its sister title The Sun is expected to follow suit later this year.
Highlights during the period, according to executives, include The Sun's 3D edition which generated a "significant sales uplift" owing to its coverage of the General Election. The Sun's £9.50 priced holidays; and the launch of The Sun's Saturday magazine Buzz.
News Group paid out wages and salaries totalling £38.5m in the period, compared to £40m a year earlier
Times Newspapers, meanwhile, reported turnover of £392.7m, compared to £392.5m the previous year. Losses were down from £87.9m to £45.9m in the period.
Executives at Times Newspapers, about the advertising markets, said: "The situation has improved significantly in the second half of the year with spend by clients starting to increase year on year, and external advertising forecasts are now generally more robust."
Highlights of the year, according to executives, include the launch of new monthly science magazine, Eureka and the relaunch of weekday issue of The Times.
The websites for The Times and The Sunday Times are both now behind a paywall. The two subsidiaries are owned by News International.