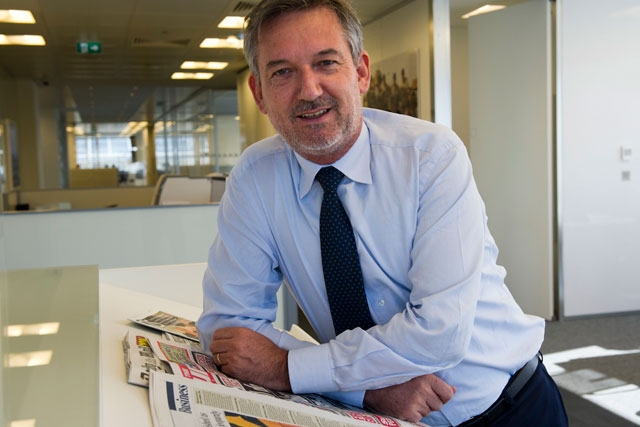 In a letter, seen by Media Week, to top spending clients and agencies this week, the chief executive has detailed rollout plans for a new advertising model, described as "a pioneering approach to our advertising model that breaks down traditional barriers between print and digital".

The letter states: "We are introducing a groundbreaking system that automatically translates print creative to digital format allowing print advertisers access to our full range of digital editions.

"On 15th October we will launch a new tablet edition of The Sun, available on seven inch Android tablets. From launch, all DPS, full page, 25x4, 34x4 and 34x5 advertisements run in colour nationally will also appear in the Android edition.

"This will enable you, as an important advertiser to extend the reach of your Sun campaigns beyond the 7.7 million* newspaper readers into the new platform.

"In addition, from October all full page and 25x4 colour advertisements in The Times will also automatically appear within the iPad and Android editions meaning you can reach 1,505,884 highly engaged Times readers every day…

"From November, we will extend this offer into The Sunday Times, including all full page and 37x6 advertisements in News, Business and Sport, Style and Sunday Times Magazine.

"In January 2013 The Times iPad coverage will be extended to all advertising regardless of size and in March 2013 all migrated tablet adverts on both titles will be able to include the ability to tap to launch a weblink."
The 57-year-old leader, who took control of the publishing group last July following Rebekah Brooks' resignation amid the News of the World phone hacking scandal, drew upon proprietary research into tablets to highlight News International's audience.
It showed that a Times iPad user has an average household income of £109,000 and uses the app three times per day for a total of 41 minutes, consuming 81 pages of quality content.
Mockridge's letter explains: "The print bookings will automatically convert into static versions for the tablet editions. However, we also welcome you to provide a separate static tablet version of your advertisement.

"We are committed to investing in digital publishing. We value our readers wherever they consume our brands – on tablets, online and in paper - and as valued advertiser we want to make it easier for you to reach them across all platforms."
This week's announcement is the latest move by News International to make its entire advertising process more efficient.
Last October, Paul Hayes, commercial managing director of NI, detailed plans for a £3m investment in a bespoke ad trading platform, aimed at automating the process of servicing News International's long tail of high volume, low cost advertisers.
Hayes pointed to the fact NI's Top 100 advertisers are responsible for around half of the company's total income. It meant up to 17,000 "high volume, low value" clients were booking more than 300,000 ads a year, much of which is now being automated.
Follow @DurraniMix