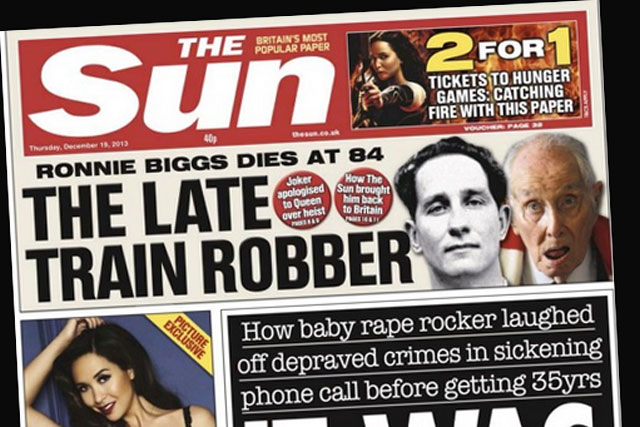 According to reports filed at Companies House this week, Times Newspapers Limited (TNL) generated a pre-tax loss of £24 million. Stablemate News Group Newspapers (NGN), home to the Sun, posted losses of £75 million for the same 12-month period.
The Times and Sunday Times division reported revenues were down 3.5% year on year, from £360.6 million to £347.9 million.
Times Newspapers Limited also paid out £14 million to outgoing former directors – including chief executive Tom Mockridge, who has since joined Virgin Media, and The Times editor James Harding, who is now the BBC's director of news.
The number of staff employed by TNL dropped from 513 to 473 during the period, resulting in a slight drop in payroll costs (from £46.5 million to £45.8 million) and £15.8 million in redundancy costs.
Phone-hacking continues to drag Sun publisher into the red
News Group Newspapers, parent company of the Sun and Sun on Sunday, reported a pre-tax loss of £75.1m in the year to 30 June.
Revenues at the division were up £20m to £514.3m following the launch of The Sun on Sunday in February 2012. But the ongoing phone-hacking scandal continues to dog the company, being responsible for a further £87.5 million in the year.
To date, the phone-hacking scandal has cost News UK, formerly News International, £375m in directly related charges, and the closure of the News of the World in July 2011.
However, the results represent a significant improvement for News Group Newspapers, which in 2012 made an operating loss of £272m.
NGN was also hit by a £40m one-off charge in compensation paid to Johnston Press for the termination of a printing deal.
The Sun publisher spent £44m on sales and marketing as it prepared to move its digital content behind a paywall in August and sustain momentum for its Sun+ offer.
Staff numbers at News Group Newspapers rose slightly from 467 to 486 year on year, but the stated shift from seasoned print journalists to younger, digitally savvy reporters helped curtail payroll costs, which fell from £43.8 million to £39.9 million during the period.
Follow @DurraniMix