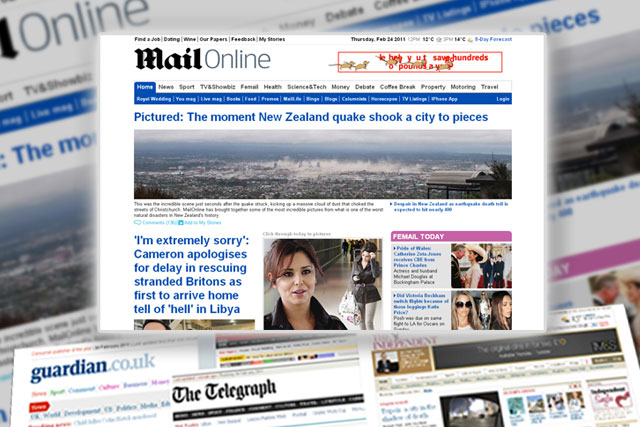 Now into its 13th consecutive month at the top, the story may be familiar but its achievement cannot be underestimated.
MailOnline recorded 56.01 million global unique browsers over the month, a 4% increase over the previous month and 56% lift since January 2010.
The website also attracted 3,187,658 daily average browsers: 48% higher than in January 2010 and 5% higher than the previous month.
The newspaper group has been quick to announce its new highs represent 885,358 more visitors a day than its nearest rival, The Guardian, which recorded 2,302,300, and the Telegraph at 1,716,359.
It was visited by an average of 1,442,989 UK residents every day, 57% more than in Jan 2010 and 15% higher than Dec 2010, but that is no longer where the group's growth is coming. More than 60% of the site's traffic is being generated from outside the UK.
The monthly audit provides no further country breakdowns but clearly the US forms a big part of this. The latest record ABCe figures from DMGT's digital powerhouse comes as the group looks to cement its presence in the US with its first office in New York's SoHo.
Media Week can confirm the opening is being led by Martin Clarke, publisher of MailOnline, who is currently based in the city, atleast for the next couple of weeks.
Elsewhere, January proved to be a strong month online for Mirror Group, with a 20% monthly lift to 12,896,957.
The Mirror Group Digital's network of sites, including Mirror.co.uk, 3am.co.uk and Mirrorfootball.co.uk, achieved 602,685 daily browsers last month, up 19.59% sand places it ahead of Independent.co.uk.
ABCe Results Jan 2011
Jan
Month/month
Year/year
Jan
Online title
Global Daily Ave
Daily % change
Daily % change
Global monthly total
MailOnline
3,187,658
4.69
47.85
56,016,340
Guardian.co.uk
2,302,300
3.04
19.18
39,586,711
Telegraph
1,716,359
8.40
3.85
32,680,855
Mirror Group Digital
602,685
19.59
22.56
7,743,133
The Independent
560,686
11.14
29.75
5,856,736