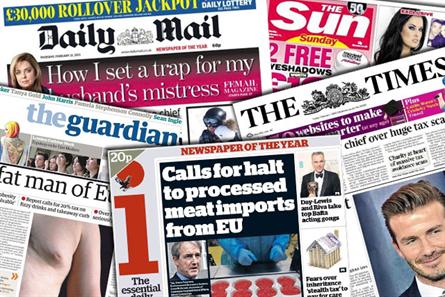 Evgeny Lebedev's concise i achieved a slight 0.40% year-on-year lift in its print circulation in December 2013 to average 292,488 copies, according to figures from the Audit Bureau of Circulations.
Guardian Media Group's Guardian newspaper was the second best performer, with circulation down just 0.56% compared to December 2012, to 203,069. The strong circulation performance by The Guardian comes despite its coverprice rising 20p in January 2013.
The Daily Telegraph also reported a robust circulation, down just -1.27% year-on-year to 540,501. The December audit will be the last full month with editor Tony Gallagher at the helm, following his shock exit yesterday.
In contrast, Pearson's Financial Times was the biggest faller, with average daily circulation ending 2013 down 17.41% year-on-year to 236,528 copies.
The FT's shrinking UK circulation comes ahead of a move to a single, global edition in the first half of 2014. Editor Lionel Barber said it would be the end of "the 1970s-style newspaper publishing process" with incremental changes made to multiple editions, towards a "print product derived from the web offering".

Northern & Shell's Daily Star Sunday was another newspaper to lose more than 15% of its circulation year-on-year in December, down -16.28% to 302,031. Similarly at The Independent, stablemate to, and primary source of content for, the successful i, circulation tumbled -13.85% year-on-year, to 67,266.
Owner Lebedev has instructed The Independent's founder Andreas Whittam-Smith to sound out prospective investors for the title, with all offers open to discussion, including a potential outright sale.
With the exception of the i, all British newspapers ended 2013 with a smaller circulation than they began with, and there were double-digit falls at The Sun (Sunday), (-11.54%), the Independent on Sunday (-12.24%), Sunday Post (-11.83%), Sunday Mail (-10.31%), The Sun (-10.27%) and the Daily Record (-10.27%).
*All newspaper groups increased online unique users during 2013, apart from the Sun which erected a paywall in August.
AUTOFEED INTERACTIVE DATA