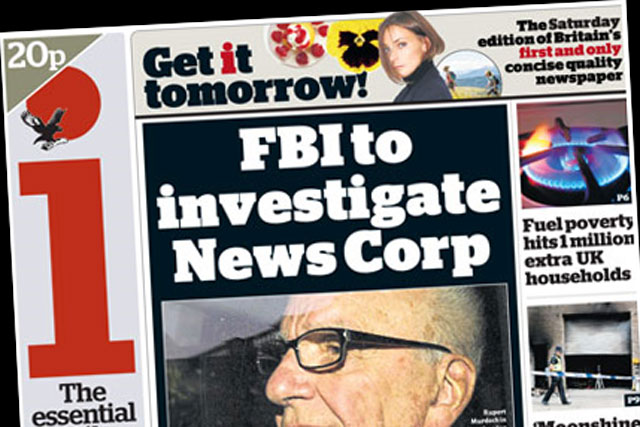 The 20p, cut-priced title has today (Friday) reported an Audit Bureau of Circulations (ABCs) figure of 173,165 in June – a bounce of 3.65% from last month and its highest figure since February this year.
Sister title The Independent – now under the new editorship of the title's former deputy editor Chris Blackhurst – reported a headline circulation figure of 176,681.
The Independent gave away 73,940 copies in the month, helping inflate its headline circulation.
The i – which launched last year – could well overtake The Independent in July should it continue is month-on-month increases in circulation and The Independent continue moving in the opposite direction.
The i this week disclosed its first-ever NRS figure, in an effort to bolster its standing in the eyes of media buyers.
Across the rest of the market, the tabloids and mid-market suffered less than the quality titles.
The Daily Mirror and the Daily Star reported small month-on-month increases, 0.16% to 1,170,541 and 0.87% to 708,163 copies respectively.
The Sun nudged down 1.41% to 2,806,746. Observers will be waiting to see if the News of the World's demise will have impacted on next month's sales of Rupert Murdoch's tabloid.
The Daily Express and the Daily Mail also edged slightly lower from June, down 1.54% to 621,871 and down 0.47% to 2.047,206 respectively.
Across the quality market, all titles were down on the previous month.
See the full figures from the June national newspaper ABC data here