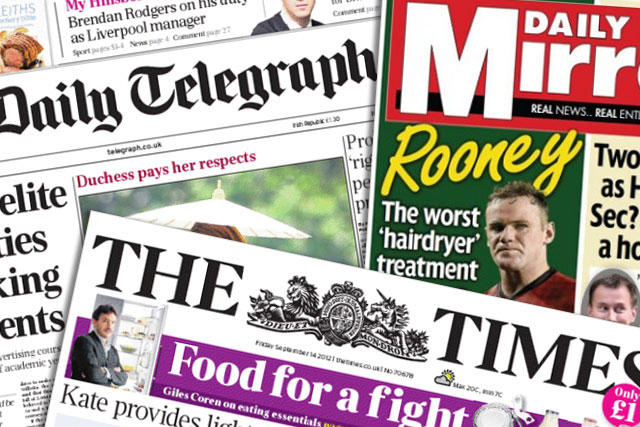 August's audited newspaper figures give the first clear indication of how titles fared during the Olympics, which took place between July 27 and August 12.
August is a traditional quiet month for newspapers but some of the daily national newspaper will be frustrated that significant editorial investments have not reaped more rewards.
The Daily Telegraph and The Times were the two standout performers across the quality sector, nudging up there July's circulations. The 20p priced i was up 0.50% to 281,530.
The Daily Telegraph was up 0.49% to 584,089 while The Times was up 0.90% to 407,720.
Both newspapers invested significantly in editorial and marketing around the Olympics, including selling there titles by street vendors outside the Olympic Park.
They also had outstanding performances on some days during the Olympics.
They performed better than The Guardian, down 2.43%, to 204,271 and The Independent, down 2.17%, to 81,804.
The Daily Mirror, under the new editorship of Lloyd Embley, was the standout performer in the tabloid sector, up 0.62% to 1,088,724, while the Daily Star was down 3.73% to 600,304 and The Sun down 1.89% to 2,502,691.
Overall, the mid-markets outperformed the red-tops but there was no significant uplift. The Daily Mail was down 0.37% to 1,914,126 while Daily Express nudged down 0.91% to 550, 502.
Follow @johnreynolds10