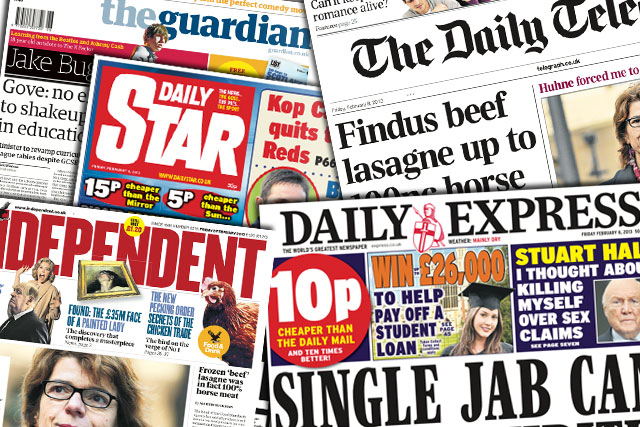 The official circulation for the Sunday edition of the Sun rose to 2,010,826 in January, according to the latest Audit Bureau of Circulations figures published today (8 February).

News International's 50p Sunday tabloid fell below 2 million for the first time in the last official audit for December.

The start of the year proved to be a good month for Sunday newspapers, with Trinity Mirror's Sunday Mirror up 1.4% to 1,039,150, the Mail on Sunday up 1.7% to 1,715,707, the Sunday Times up nearly 1% to 885,612 and the Sunday Telegraph up 1.6% to 435,036.
Elsewhere, The Guardian was the only quality daily title to record a month on month uplift in January, its third in a row. The Guardian Saturday also achieved a rise, with copies up 2.3% from last month, following its 'Own the Weekend' advertising campaign.

David Pemsel, chief commercial officer at Guardian News & Media, said: "The latest ABC figures confirm that the Guardian is the only quality news title to see an uplift in print sales three months in a row – great news for advertisers, and a fantastic achievement in a challenging market, especially in light of the price rise we introduced in January.
The Guardian began 2013 with a bang with our bold new marketing campaign, 'Own the Weekend', as well as the launch of 'Cook' – a new weekly section free with the Guardian every Saturday, and we're thrilled that our readers have supported this new approach by voting with their feet."
Full figures for January 2013 (Click interactive graphics below for full details)
AUTOFEED INTERACTIVE DATA
Follow @DurraniMix