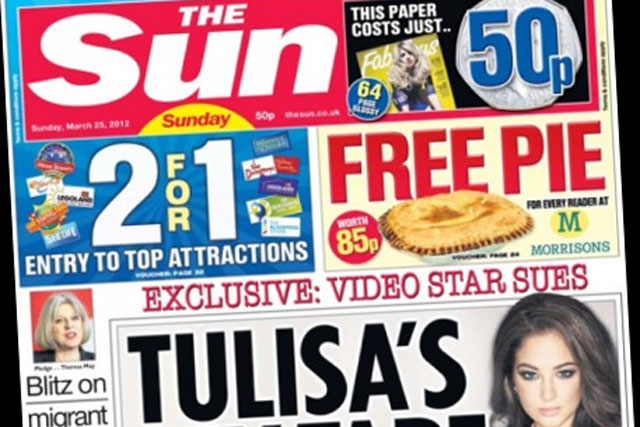 The News International tabloid's April circulation was 2,297,441 copies, which was a 5.3% fall from March, according to the latest ABC data.

In its first week at the end of February the 50p Sunday Sun shifted 3,213,613 copies in a blaze of publicity.

The excitement having faded, it is now down nearly a third from that mark, and also below the 2.7 million copy level the defunct News of the World was holding in its final months.

However, Rupert Murdoch's baby remains well ahead of Trinity Mirror's flagship Sunday Mirror, which dropped 1.6% over the same period to 1,088,354 copies.
A News International spokesperson said: "The Sun remains the biggest selling Sunday newspaper in the UK."

Just before the arrival of The Sun on Sunday, the Sunday Mirror was recording a circulation of over 1.7 million copies, but is now back to where it was when it had to compete with the News of the World.
The biggest riser was Richard Desmond's Sunday Express, which climbed 5.1% from March to 529,510 copies.

The Mail on Sunday's much bigger circulation continues its gentle downward course, dropping 1.3% from March to 1,800,674 copies.

For a change the quality papers had a largely good month, in particular The Sunday Times, which rose 2.9% from March to 955,248 copies, possibly driven by demand for its marketing-backed Rich List issue of 29 April.

Bucking the trend was the Independent on Sunday, which fell 2.5% from March to 121,837 copies.