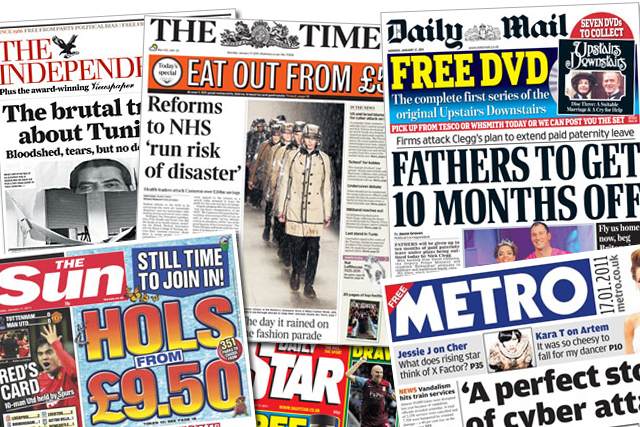 The NRS canvasses more than 36,000 people to build a national estimate of how many readers have read a particular newspaper. It differs to The Audit Bureau of Circulations (ABCs), which reports the number of copies sold.
The figures, for the most part, will make grim reading for newspaper publishers, although it was not bad news all round.
The Daily Mirror registered a daily average readership of 3.09 million in the 12 months from January to December 2010, down 338,000 on 2009.
The Daily Telegraph registered 1.68 million, down 224,000 on the year, while The Times registered 1.57 million, down 208,000.
Things were better for The Sun – the most widely read national newspaper – and The Daily Star, which barely lost any readers in the period, recording average daily readership figures of 7.72 million and 1.57 million respectively.
Richard Desmond, the boss of The Daily Star, has been in a long-standing cover price war with The Sun, in a bid to pinch readers from its rival.
The Guardian lost only 43,000 readers to record an NRS figure of 1.1 million, while The Independent lost 139,000 readers to come in at 532,000.
In the mid-market, the Daily Mail recorded an average daily readership of 4.74 million, down 192,000, while Desmond's Daily Express lost 150,000 readers to 1.43 million.