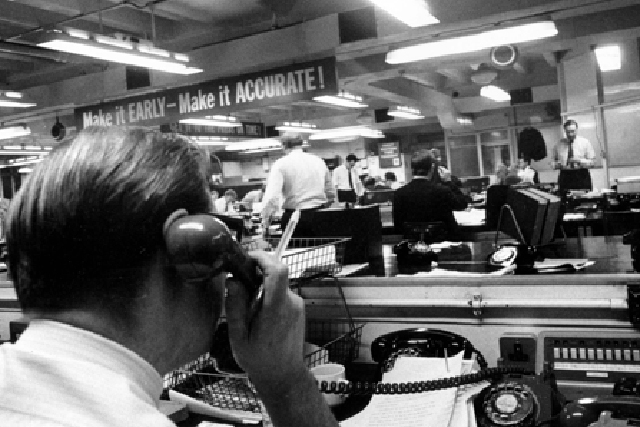 The FT had plenty to celebrate. There are not many brands still going strong after one and a quarter centuries.
And yet, as the balloon drifted across the Thames and off into the dimming sunlight, it was impossible for the casual spectator not to wonder whether the brand was heading into the sunset as well – and whether the paper had any chance of being around to celebrate its second centenary, or even 150 years of continuous existence.
Newspapers are under pressure like never before. Almost two decades after Netscape launched its ground-breaking browser and introduced us to the wonders of the World Wide Web, the death of the traditional paper-and-ink newspaper has seldom looked closer. Circulations hurtle relentlessly downwards.
Advertisers drift away from a medium that looks in terminal decline. Budgets get squeezed and papers get smaller.
Then, just when it seems that nothing could get any worse, the industry becomes embroiled in the phone-hacking scandal, the News of the World closes down, and the Leveson inquiry threatens a ferocious new regulatory regime that could squeeze out the pulse-quickening news, mischief and reporting that are perhaps the only thing newspapers had left going for them.
"The newspapers are going through a period of painful transition," argues Rufus Olins, a former Sunday Times journalist and sometime editor of MT, who now runs Newsworks, a trade body that promotes all the main papers. "But, as a country, we do newspapers really, really well. These are brands that still have a huge amount of loyalty and that can be made to work."
Well, maybe. When I mentioned to a few journalists that I was writing a piece about the future of newspapers, two of them joked. "Why not do a tweet instead? They haven't got one. You don't even need all 140 characters."
There is some truth in that. The newspaper industry has been through a traumatic decade – only the music industry has suffered the same kind of digital meltdown. It has had a near-death experience. It seems unlikely all the national newspapers that most of us grew up with will survive, at least in the form in which they are familiar.
And yet the industry is also resilient. It is possible – just possible – that it is starting to turn the corner.
It is experimenting with new business models, and some of them are finally starting to pay off: The FT has built a sustainable subscription business online; News International is investing ferociously in its paywall; the i newspaper has found 240,000 daily readers from nowhere for a cheap, quick read; the Evening Standard has built a free model that works; the Daily Mail has created the world's largest news website and maintains its dominance of the British mid-market.
No less an authority than Warren Buffett thinks papers have a future. The man who started his career as a newspaper delivery boy told his shareholders four years ago that he wouldn't buy a paper at any price.
But in his latest letter to shareholders he explained at length why he'd been on a buying spree in the American industry.
"Papers delivering comprehensive and reliable information to tightly bound communities and having a sensible internet strategy will remain viable for a long time," he argued.
The problem is that although there are signs of success, these are all different. There is little evidence of a single model for making newspapers work in the 21st century.
"If you go back to 1964, that was the heyday of newspapers in terms of circulation," says Chris Blackhurst, editor of the Independent. "The Daily Express sold 4.5 million copies and was the biggest paper in the world. But the papers were all pretty much on the same model. Now all the main companies are doing different things."
Indeed. The question now is a slightly different one from whether newspapers will survive – and in many ways it's a more interesting one. It is: which newspapers will survive, and which has found the best way of securing its existence?
"Five years ago I would have said this industry was going through an existential crisis," says John Ridding, chief executive of the FT. "Now I would say it faced a problem of execution. That is a very different place to be."

Continue reading this Management Today extended feature at www.managementtoday.co.uk