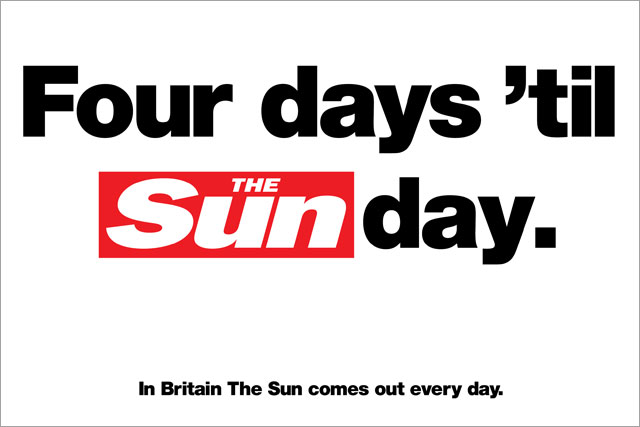 One of the paper's sport commentators will be retired Manchester United star Roy Keane, who "will be a perfect fit for our punchy pages".
Other top names appearing in the paper this Sunday will also include The Sun's Bizarre pages, Dear Deadrie, and the Goals supplement.
The paper has also taken out a full-page ad in today's issue highlighting The Sun on Sunday's home delivery service. News International already offers the service for the weekday and Saturday issues.
The outdoor campaign to support the launch of The Sun on Sunday is running until midnight on Saturday across CBS's digital network, which includes 50 LCD screens and 18 escalators runs in London.
The outdoor ads highlight the countdown to the title's highly-anticipated launch, including the tagline "In Britain The Sun comes out everyday."
The outdoors ads are running in tandem to a TV spot, which broke last night during ITV's live coverage of 'The Brits'.
The title is launching this Sunday with a promotional cover price of 50p, in an effort to snatch back some of the lost 2.66 million News of the World buyers.
Follow John Reynolds on Twitter @johnreynolds10