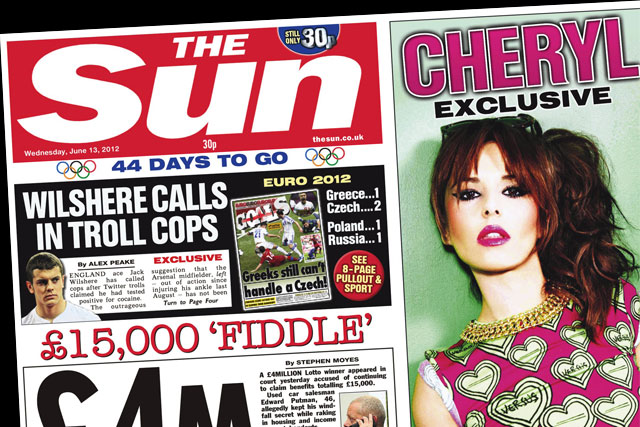 The Sun, the county's best-selling daily national newspaper, is currently priced at 30p nationwide Monday to Friday. The price of The Sun will now up to 40p from Monday (2 July).
The price rise will make The Sun more expensive than its tabloid rival the Daily Star (30p) but still cheaper than rival the Daily Mirror, which is 45p during the week.
When News International launched the Sunday edition of The Sun it promised it would keep both its weekend papers at 50p for the rest of 2012 and today a spokesman for New International confirmed that is still the plan.
The Sunday Times will rise from £2.20 to £2.50 from a week on Sunday (8 July), making it the most expensive Sunday paper.
According to Audit Bureau of Circulations (ABCs) figures, the circulation of The Sun in May was 2,611,838 and The Sunday Times 923,412.
The Observer is £2.20, the Sunday Telegraph and the Independent on Sunday are £2 and the Mail on Sunday if £1.50.
The Financial Times is the most expensive newspaper between Monday and Saturday with a cover price of £2.50 on weekdays and £3 on Saturdays. The business-focused FT does not publish on Sundays.
Tom Mockridge, chief executive of News International, said: "We have agreed these changes to put the papers and company on a secure footing for the future and to ensure that we can continue to invest in the first-class journalism that characterises our brand."
Katie Vanneck-Smith, chief marketing officer, News International, said: "We are committed to ensuring the longevity of our titles and these price rises reflect the quality of our newspapers.
"Both The Sun and The Sunday Times lead the way with campaigning and investigative journalism as well as great-value reader offers."
Follow Maisie McCabe on Twitter @MaisieMcCabe