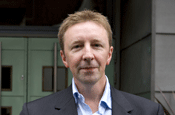 Jones will sit on the Publicis worldwide executive committee alongside Richard Pinder, the chief operating officer of Publicis Worldwide, to whom he will report.

In his new role, Jones will be responsible for Publicis London, Publicis Modem, Publicis Dialog and Publicis Blueprint. The role, vacated by Tim Lindsay a year ago, has subsequently been handled by Pinder.

At DraftFCB, Jones will be replaced by Enda McCarthy, who joined in February 2006 as managing director.

Jones, whose career includes high profile stints in above- and below-the-line agencies, joined FCB in 2006 as chief executive and was appointed co-president when the agency merged with direct network Draft. He took sole control of the agency when his co-president John Minnec returned to the US in February last year.

After starting his career at BMP DDB, where he rose to head of account planning, Jones founded Jones Mason Barton Antenen in 1999. He became the chief executive of Claydon Heeley when it merged with Jones Mason in 2001.

Pinder said: "Nigel has proven himself in the most demanding environments our business can design - planning at the then world-best BMP, chief executive of an integrated agency start up at Claydon Heeley and chairman of a merger of two entirely different cultures at DraftfFCB."