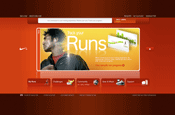 R/GA scooped the Gold at the Campaign Digital awards last night for its work for Nike+.

The Interpublic-owned, New York-based digital network also won the Best Use of Interactive and Best International categories with the same project: a website and online running community built around the Nike+ product, which allows runners to view speed and distance information on their iPods via a chip in the Nike+ shoe.

The chairman of judges, the Poke London creative director, Simon Waterfall, said: "The jury was united, unanimous and feeling rather sick at such an amazing piece of work. As an industry we can be very proud of it, and R/GA should be rightly smug."
R/GA also took the award for Internet and Broadband Service Providers with its "beatbox mixer" project for Verizon.

Dare took home the most awards on the night, which was held at the Hurlingham Club in West London. The agency won in four categories: its work for Vodafone took top honours in the Ongoing Branding Campaign or Project, Business to Business and Telecommunications categories, while its Lynx "blow" campaign won in Health and Beauty.

Lean Mean Fighting Machine and Publicis Dialog won two awards each. LMFM won the Charity and Public Sector category with its anti-smoking campaign for the Department of Health; and the Travel section for its "time will fly" project for Emirates. Publicis Dialog's two awards were both for its Army jobs campaign; one in the Acquisition Marketing Programme category and the second for its Interactive TV campaign.

Other winners included Agency Republic in the Media and Publications category, for "meet the DJs" for BBC Radio 1; LBi in Leisure and Entertainment for PlayStation 3 "this is living"; and AKQA, which took the honours in the FMCG category for Trident Gum.