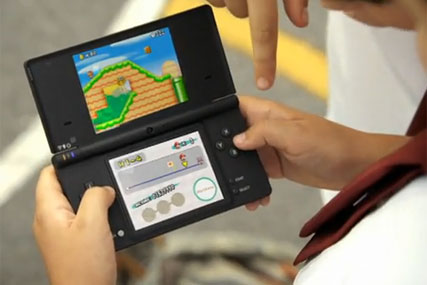 The new television spot is created by Karmarama, with media buying by MEC. It features a host of stars including Jonathan Ross, Ant and Dec, Jamie Cullum, Ashley and Peri from Diversity, Jamie Redknapp, Lawrence Dallaglio, Jodie Kidd, Iain Lee, Sarah-Jane Crawford and the original games master Patrick Moore.
The ad will be screened for the first time tonight (Monday) at 8.45pm, during 'Coronation Street' on ITV1.
The celebrities and the public will talk about their favourite Super Mario memories and what he has meant to them.
Ant and Dec, who have fronted previous Nintendo campaigns, said: "We've been fans of Mario since Donkey Kong. He's the everyman, the little Italian-American plumber, a guy done good.
"He's always got a smile on his face under that moustache. He is the most loveable video game character there is – he's an everyday hero."
The Jedward promotion will be timed for later this year. Spots for the push are due to be filmed in the coming weeks and are shrouded in secrecy. Sources at Nintendo have only confirmed they have signed the Irish twins.
However, reports are already suggesting that the Grimes brothers could be paid up to £250,000 for the promotion, and that they have been brought in to entice a younger demographic for the brand, which faces stiff competition for the Christmas gaming rush from rivals Microsoft Xbox and Sony PlayStation 3.
The brothers were the surprise hit of last year's 'X Factor' and made it through the live finals only to be voted off when they came up against eventual 'X Factor' runner-up Olly Murs.
The pair, which 'X Factor' judge Simon Cowell said couldn't sing, were thought to have survived so long on the show due to their appeal to the younger voters.