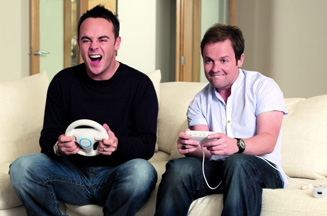 The partnership will include TV advertising and involvement in game development.
The pair will feature in Nintendo ads from 16 October where they will meet and challenge Nintendo fans across the UK.
Nintendo UK's general manager David Yarnton said: 'Given Ant and Dec's popularity with everyone from grandparents to grand children and with the broad appeal of Nintendo's products from ages five to 95, we knew they'd make the perfect partner for the brand.'
He added that Nintendo has helped introduce a new group of people to the joys of gaming.