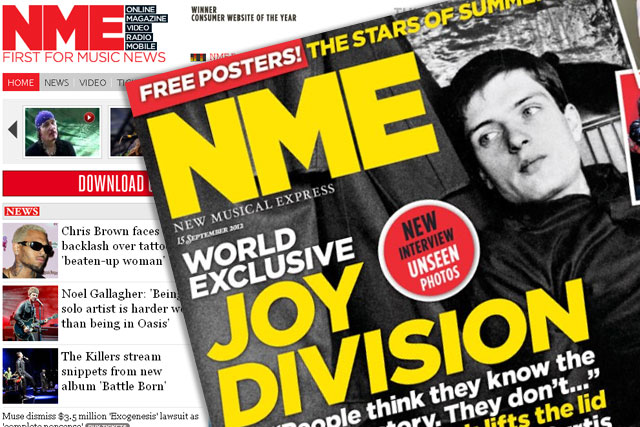 NME has an average weekly circulation of just 23,924 copies, way below Nuts' 90,134 copies and Grazia's 190,053 copies.
However, the monthly reach figure provided by the new NRS PADD (Print and Digital Data) figures, which combine NRS print and UKOM website audience data into an unduplicated total estimate, tells a very different story.
NME's monthy reach is put at at 1.42 million across both channels, 76% higher than the music weekly's estimated 809,000 monthly print readership.
Grazia is at the other end of the online adoption scale, with its monthly reach of 1.33 million across both channels adding just 7% to its 1.24 million print readers. Likewise Nuts' total reach of 1.42 million adds 9.9% to its 1.28 million print readers.
FHM's figures are more typical of the average magazine, showing a 29% uplift on its 892,000 print readership when taking FHM.com into account.
Given the consumer magazine industry's free website content model and print advertising's premium to online advertising, Grazia's sales volumes are likely to be more valuable to Bauer than NME's to IPC.
However, the picture is more nuanced in terms of magazines' claims to be multi-platform brands, which some publishers have been keen to advance with advertisers.
The figures reveal only a small percentage of a title's audience consumes both print and online.
In NME's case this is just 0.6% at 9,000, in Nuts it is 0.5% at 7,000, and for Grazia it is 0.6% at 8,000.
Monthlies appear to have a greater overlap: FHM at 1.8% and 21,000, Cosmopolitan at 1.6% and 31,000, and Glamour at 1.7% and 26,000.
The boost to reach from the print and website combination compared to print only varies hugely according to different titles and audiences, from as low as 1.6% for Northern & Shell's OK! to 128% for Time Out. OK!, however, has the biggest unduplicated monthly reach of any paid-for magazine, at 5.5 million.
For magazines as a whole the estimated uplift is 7.8% to 38.7 million monthly readers, according to magazine trade body PPA's own interpretation of the NRS PADD data.
Marius Cloete, head of research at PPA, said: "I think it's generally it's a good set of data for magazine publishers because for pretty much the last decade we've faced a lot of negativity in the industry with people generally assuming that we're losing readers.
"The NRS PADD data shows we're reaching as many people if not more, per brand, although now we're just reaching them through different platforms."
In 2005, according to Cloete, the average issue reach of print magazines as a whole was 36.5 million or 76% of the total population.
Cloete cautioned the figure was not directly comparable with the current NRS PADD monthly reach figure, but provided an indication of reach – his NRS PADD estimate puts the print-only monthly reach at 35.9 million, which is 71% of the population, and the website-only monthly reach at 12.7 million, which is 25.3% of the population.
Cloete's figures are based on a panel of 167 print titles and 76 websites or portals and crucially strip out retailer websites that NRS PADD links with customer magazines, which typically have a much bigger audience than consumer magazine websites.
For example, while John Lewis magazine has 570,000 print readers the brand's reach including Johnlewis.com is more than six times as high at 3.5 million.
There are further caveats to the NRS PADD data when it comes to analysing magazines, for example the fact it only includes titles whose publishers are NRS members, excluding the likes of Shortlist Media's Shortlist, Loaded and Future's T3.
It also only includes websites that appeared in UKOM/Nielsen sample sizes of more than 40 people, and does not yet include tablet and mobile consumption.
Finally, a particular magazine's linked website figure may not necessarily be that of its own website but that of a portal pooling content from sister magazines belonging to the same publisher, or even a less closely related site.
Examples include BBC Worldwide's BBCgoodfood.com, IPC's Goodtoknow.co.uk and Housetohome.co.uk, and Hearst's Handbag.com and Digitalspy.co.uk. While BBC Good Food magazine is published by Immediate Media under contract from BBC Worldwide, the website is operated by BBC Worldwide.
Perhaps the biggest anomaly – in what is admittedly the first run of data – is Hearst's Esquire magazine being linked to Handbag.com rather than Esquire.co.uk. Clarification has been sought from Hearst but was yet to come at the time of publication.
Follow @DanFareyJones