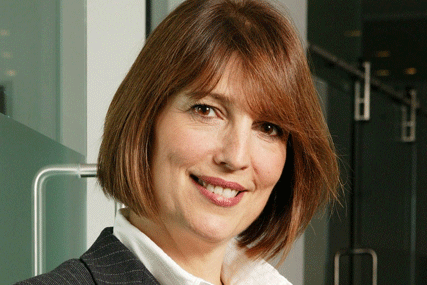 The announcement of her departure to join EasyJet, where she will join as chief executive later this year, follows a major ongoing cost-cutting exercise at GMG, as the company seeks to alleviate losses running to £100,000 a day.
But despite the difficult times, the outgoing chief executive, speaking to Media Week this afternoon, pointed to numerous achievements during her tenure. In particular, McCall singled out the launch of Guardian Unlimited, which she cited as "a pretty important milestone".
McCall said Guardian.co.uk is now one of the world's leading news sites, despite the group – perhaps in a veiled criticism of rivals – "never spending a shedload of money on digital".
Unlike News International, GMG has no plans to charge for the journalistic news content across its news websites.
And McCall said it was a myth media companies did not make money from digital, citing the £40m in digital revenue – including display and recruitment – made across the business in its last financial year.
Other achievements, according to McCall, include the decision to switch The Guardian to Berliner format, which she claimed has paid dividends, reaping "massive amounts of colour advertising".
However, in keeping with the industry as a whole, the circulation of GMG's newspapers continues to fall. One of the reasons McCall's departure has raised eyebrows is the timing of the announcement, with questions still hanging over the future of The Guardian and the Observer, despite attempts to put the papers on a more stable financial footing.
Bold decision-making
McCall joined GMG in 1986 and took over as chief executive in 2006, becoming one of the few female bosses in a largely male-dominated industry.
Described by peers and observers as "candid", "a strategic thinker", and "no wallflower", McCall will be missed by the media industry.
Her tenure as GMG chief executive – and previously boss at Guardian News & Media – has been marked by bold decision-making, as the company looked to safeguard the future of The Guardian at a time when many believe print newspapers are in terminal decline.
One of McCall's toughest decisions was severing the group's historic links with Manchester by selling the Manchester Evening News earlier this year to rival Trinity Mirror.
The move shocked some industry observers, who believed Trinity Mirror had picked up the 32 regional titles for a song, despite their tumbling circulations.
The deal netted GMG £44.8m, made up of £7.4m in cash and with Trinity Mirror releasing GMG from a £37.4m print contract.
By contrast, rival Daily Mail & General Trust (DMGT) reportedly turned down almost £1bn for its 32 regional titles in 2006.
However, McCall said she has no regrets over the timing of the sale. She told Media Week: "We have been trying to exit the regionals business for four years. Northcliffe would be lucky to get £300m for the business today."
'No wallflower'
But what of the woman herself?
Paul Thomas, former head of press at Mindshare, said: "[McCall] is very candid about what she wants. I have experienced this first-hand. When GMG moved to Berliner size, she was pretty adamant what she wanted in terms of rates. She is definitely no wallflower.
"You have to remember that newspapers are largely a male world, but Carolyn has changed around The Guardian's world, from a newspaper publisher, to an all-round media behemoth."
Another major decision was the £1bn acquisition – jointly with Apax – of Emap's business-to-business unit in 2008, purchased with the receipts from the partial sale of GMG's stake in Trader Media Group. Earlier this month it was revealed that GMG may take an impairment hit of as much as £150m on the asset.
McCall said: "There is a bit of work to do on this business. It has proved resilient but the business needs to grow."
Paul Richards, media analyst at Numis, believes it would be cynical to blame McCall for the limited success of the deal. He said: "GMG has taken a write-down on Emap. But anyone who bought anything in 2009 perhaps paid the wrong price as there was such pressure on asset prices at the time."
Furthermore, McCall is adamant that private equity firms are queuing up to buy their stake in The Trader Media Group business.
During her tenure, McCall has presided over a lengthy – and at times controversial – restructuring of GMG, cutting a large number of jobs and illustrating that historic sentiment holds no sway in modern business.
But she is confident she will leave the business, with its diversified portfolio and reduced cost base, in better shape than when she arrived.