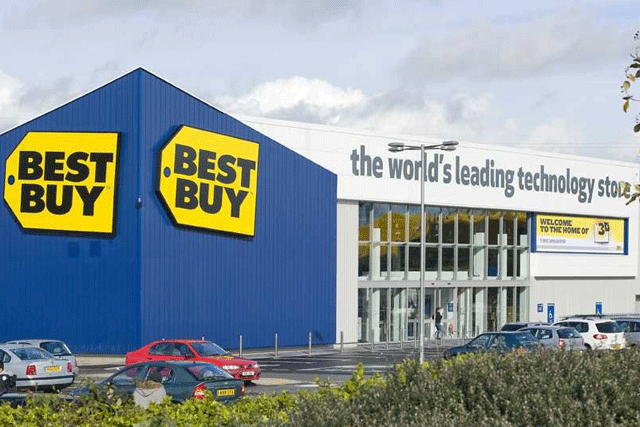 The announcement that Best Buy Europe is to close its 11 UK stores has sent a shiver down the spines of those in the retail industry. This portent of doom was quickly followed by the once-mighty Comet being sold for the princely sum of £2 to a private-equity firm, in a deal that could result in the closure of its stores in 18 months' time.
These developments may come as some relief to the pair's rival Dixons Retail, which owns Currys and PC World, but it raises wider questions about the future of UK retail. Most saliently, is it now impossible to open a traditional bricks-and-mortar chain in such a saturated market?
Best Buy is not the only US retailer to have had the UK in its sights in recent years. Whole Foods Market, which has 300 stores in the US and Canada, opened its UK flagship in London's Kensington High Street in 2007 amid much fanfare, with grand plans for up to 75 stores to follow. However, the recession took hold and the challenge of selling premium food on the UK high street became stiffer: this month it opened only its sixth store, in Glasgow.
Since Whole Foods Market made its debut, each year has brought another entrant to the UK scene; notably, fashion brands, from Abercrombie & Fitch to Forever 21. Now, the darling of the US preppy look, J.Crew, is scouting locations for its first UK store, having launched a successful online UK business.
Fashion is one area where consumers appear to place greater value on the in-store experience, not least because they can try on clothes without the hassle of postal returns. As research conducted by OnePoll for Marketing shows, 67% of people still prefer to shop for clothes in a physical store. Conversely, when it comes to electricals, 68% of shoppers opt for online (see box, far right).
Whichever the sector, however, all the retail newcomers will undoubtedly look closely at whether Best Buy's failure is symptomatic of a wider problem facing new brands or an exception.
According to retail specialist design agency Fitch, the roots of the problem lie in the fact that there was 'very little awareness' of Best Buy's 11 out-of-town branded big-box stores.
When entering a well-established market, retailers must offer something new to break the consumer's habits. 'You need to have more reasons for people to come to you other than discounts,' says Fitch creative director Tim Greenhalgh. 'Best Buy (in the UK) did not have the multi-variant offer to reflect what shopping has become.'
Another issue, he claims, is that Best Buy did not effectively transfer its US model to Europe. 'I have been auditing Best Buy in the US,' adds Greenhalgh. 'It is a fantastic retailer that is part of the fabric of the shopping landscape (there). It didn't have the penetration in the UK and the market is saturated by technology retailers.'
A source close to Best Buy also highlights the retailer's 'over-confidence': it had said that it would roll out 200 big-box stores in the UK by the end of 2013.
Right place, right time
Best Buy made no secret of its intentions when selecting the locations of its UK stores: it opened in close proximity to rivals including Comet and Currys, allowing those chains to create ambush marketing campaigns in the local area.
Another newcomer, supermarket Haldanes, opened its doors in 2009, the first new chain in its sector in the UK for more than 20 years. Ambitious plans to grow the group to 50 stores within four years failed to come to fruition, however; it fell into administration in June with the closure of 26 stores and the loss of hundreds of jobs.
'Finding the right location, where you are not in competition with other similar-sized formats', is key, according to former Haldanes managing director Gordon Emslie, now a consultant at GNE Consultancy. 'It's about doing your homework and managing expectations. It is a long-term investment - there are no fast-buck opportunities for new retailers,' he warns.
Alongside location, brand-awareness is of paramount importance when launching a new retail business, according to former Best Buy head of online marketing Richard Clark, now a consultant. It takes a major investment to achieve recognition in the local area on a par with established brands. Yet, in the current economy, that awareness is crucial to success, he says, as 'people are reluctant to try out new brands'.
Clark agrees with Emslie that laying proper foundations is essential. 'If one small thing is out of kilter, such as pricing, or your staff not being properly trained, then you are hurting your chances from the off.'
Clicks from bricks
The success of pure online retailers, such as ASOS, eBay and Amazon, should not be a deterrent to those looking to open a bricks-and-mortar store, however, according to eBay.
A spokeswoman for the auction site insists that 'it is not eBay versus the high street', as the retailers it has partnered for its Fashion Outlet all also have physical stores. She adds: 'In the future we will talk about ecommerce and the high street in a more integrated way.'
Even eBay is experimenting with a physical store. It recently opened a shop in Manhattan where people can scan QR codes to be taken to the eBay marketplace. Having trialled pop-up shops in previous years, it is now bringing one to London.
Best Buy's UK failure, which cost its US parent company and UK partner Carphone Warehouse an estimated £200m, will serve as a warning to any US retailers that believe they can easily replicate domestic success in the UK.
'There will be some small, nimble launches rather than people trying to launch 500 stores nationwide and maybe have 30 to 40 stores rather than a massive presence on every street corner,' predicts Clark.
Emslie believes the days of new domestic brands bursting onto the scene could also be over. 'I think new brands will come from independents that grow organically,' he says.
'Unless a retailer has really substantial financial backing, it's going to be incredibly tough for anyone new on the UK high street.'
IN MY VIEW - EXPERT COMMENT - Adrian Thomas Director of retail, Billington Cartmell
Connected-world products like phones and computers do still need a physical store so people can go for the expert advice. When it comes to buying fridges or microwaves, however, people no longer need that guidance.
If you do not have a sexy product like fashion or sportswear, then, as a retailer, you need to offer expertise to ensure that people want to engage with you.
There is always going to be an opportunity for retailers if they can identify a market for their product and there is a justification for having a high-street location. Nonetheless, they need to offer something over and above the experience available online. Retailers have to work extremely hard for consumers' attention and time; the ones that will win are those that offer something extra special.