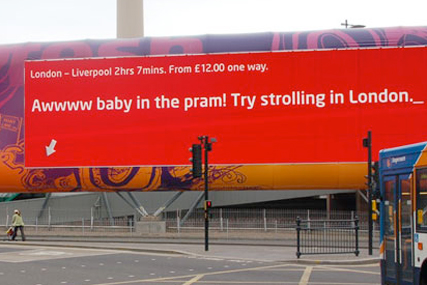 Digital posters by Nokia, McDonald's and Virgin Trains will be showcased in front a judging panel that includes senior marketers from Procter & Gamble and Virgin Media.

The contestants will have to prove their poster's creative, technological and logistical excellence, and then await the judges' vote, combined with that of the audience, to know the winner.

The competition is part of a full day of presentations on digital out-of-home, with tickets free clients and media agency directors.

Nokia's production house Grand Visual will present Nokia's launch digital poster campaign for the N97 model while agency Elvis will showcase the Liverpool Wall execution for Virgin Trains. McDonald's interactive Piccadilly series will be presented by its agency Leo Burnett.

"It's time for the digital out-of-home medium to put good work on a pedestal and praise it, and shame the lazy work," said Neil Morris, director at Grand Visual. "We need this kind of forum where outsiders, and insiders can start to understand that good work is being done, what it looks like and who is doing it."

Noelle McElhatton, editor at Haymarket Brand Media, the event's co-organiser, said: "When people think of excellence in outdoor, the Economist poster series of the 1990s comes to mind.
"We felt it was time for this year's DOOH Media Summit to pose the question, has digital out-of-home matured enough to claim its own iconic posters?"

The judging panel features Michael Garvey, acting head of brand advertising at Virgin Media, Usama Al-Qassab, business leader at Procter & Gamble and Andrew Walmsley, the deputy chairman of iLevel.
This year's event will also feature Yasmina Siadatan, winner of the 2009 BBC series of 'The Apprentice'. She will talk about how Alan Sugar's Amscreen has brought brands such as HMV, Lloyds Pharmacy, BP, Whitbread, Guardian Media Group and the FT into digital out-of-home.