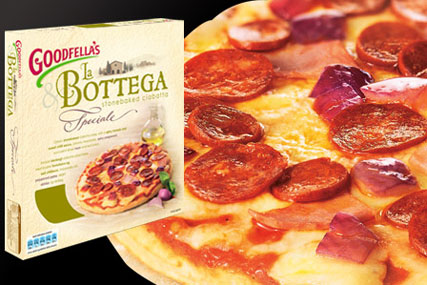 In April,
Northern Foods relaunched the Goodfellas
brand with fresh packaging and a Mother-created TV campaign in a move to fight off competition from rival brands Dr Oetker and Chicago Town, along with supermarket own-brand products.
In its financial results reported today (10 November), the company revealed that trading conditions across its frozen division were "very challenging", adding that sales in the first half had "been disappointing".
Northern Foods said its investment in Goodfellas, which is thought to total around £5m, had yet to deliver profitable sales growth, although it added that the brand had achieved some recent progress in its market share.
Overall, the frozen foods business was hit by a loss of £4.6m in the first half, compared to a £5.1m profit the year before.
Elsewhere in its frozen range, the company said that its McDougall's frozen pies had secured new listings ahead of the winter period.
Overall, in the first 26-week period of the year, revenue was down from £466.9m to £453m, while the previous profit of £12.9m was down to a £9.5m loss in the period.
Stefan Barden, chief executive, said: "While trading conditions remain tough, we are taking decisive actions to ensure Northern Foods remains well placed for these competitive and uncertain market conditions. Our finances remain strong and we continue to trade in line with market expectations."