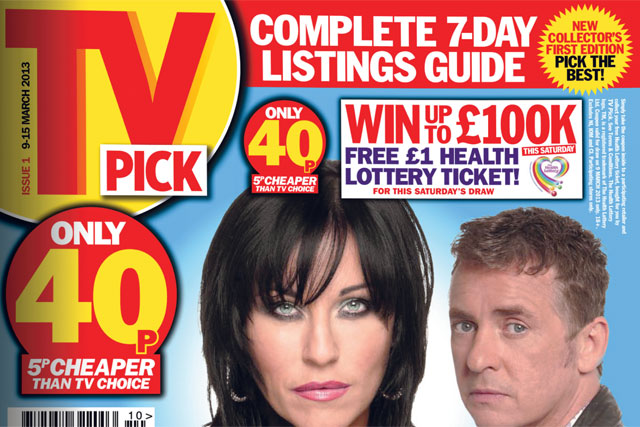 The 76-page issue carries the strapline, 'If it's on TV, it's in TV Pick', and its cover features an 'EastEnders' storyline. Northern & Shell claims the title is the first TV listings launch since 2005.
It aims to undercut rivals with a cover price of 40p – 5p cheaper than H Bauer's market-leading TV Choice, which was the biggest-selling consumer magazine in the UK with an average weekly circulation of 1.23 million in the last six months of 2012, according to the latest ABC figures.
TV Pick's launch is being supported through advertising across Northern & Shell's in-house publications such as the Daily Express and its TV station Channel 5.
To secure prominence on the newsstand, Northern & Shell is giving retailers a 90% profit margin on the first six issues.
A Northern & Shell spokeswoman said: ""Our focus is to support the launch through retailers. We think the offer is a great way to incentivise retailers and reward them for getting behind the launch, which they have done. After the six-week promotion, we'll look at whether we'll do any additional advertising."
The first issue offers a promotion for the Northern & Shell-owned Health Lottery, and subsequent issues will include a different promotion each week.
The spokeswoman declined to reveal Northern & Shell's internal sales forecast for the title, but said: "We'll be looking closely at how TV Pick performs and we're confident that we can give readers a little bit more, through the unique nature of Northern & Shell, which has retailer relationships, TV relationships and a long history of magazine publishing."