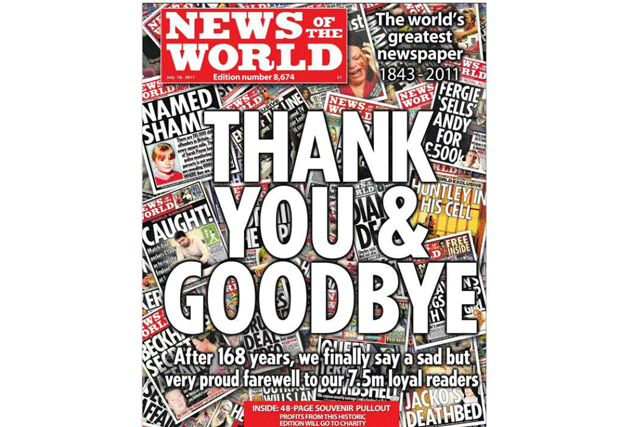 The power that brands can exert on the media world became plain for all to see last week, when pressure from advertisers forced the shock closure of the UK's most-read Sunday newspaper, the News of the World (NotW).
The 168-year-old title bit the dust after marketers told its owner, News International, that the NotW brand had become 'toxic', according to embattled NI chief executive Rebekah Brooks.
A chain of events over a 72-hour period (see Timeline, below) led News Corp chairman James Murdoch to announce the closure of the paper. This not only leaves a potential £35m-worth of advertising up for grabs, but also poses a challenge for marketers: how to reach the mostly working-class readers hitherto targeted through the NotW.
Sources close to BT, which spent £584,000 a year with the paper, say its demise will in no way damage BT's press advertising. It plans to redirect its spend to other nationals - a strategy that will not be restricted to red-tops.
One marketing director of a major FMCG brand says advertisers will quickly settle their spend with new titles. 'Ultimately, consumers will buy other newspapers.'
Adam Smith, futures director at WPP media-buying operation Group M, says 'the loss of a Sunday paper is about as serious as you can get' from an ad investment point of view. 'This is enough to do measurable damage to the whole (print) medium,' he says.
According to Smith, the closure will make life particularly difficult for travel, supermarket and entertainment brands. 'It has no obvious substitute (for advertisers), so investment won't be as efficient as it used to be.'
Prior to its final edition, the NotW's circulation was about 2.6m, far lower than the 6.3m it boasted in 1969, but still dwarfing the 1.9m of its nearest rival, the Mail on Sunday.
The Sunday papers' sales forces will be falling over themselves to lure in high-street brands' adspend. Sources close to the Sunday Mirror are predicting an influx of retailers.
Npower marketing director Kevin Peake is particularly concerned about losing his brand's association with NotW columnist Martin Lewis. 'The interesting thing for us is what happens to Martin, whose column we advertise next to,' he says. 'We're after the mass market. From an advertiser perspective, we're talking about newspapers in a way we haven't for years. This is a real test of how good your media agency is.'
Most commentators believe the expected launch of a Sunday edition of The Sun would prove a canny move by NI, and one advertisers would warm to. 'The Sun is not a tainted brand, so it's a no-brainer,' says one source. 'It is down to how NI manages the situation.'
Research conducted for Marketing last week by OnePoll, prior to the NotW closing, reveals that the paper's readers had the least-strong feelings regarding the scandal (see box, below). Just 34% were aware of the story and 'cared very much', while 27% 'strongly agreed' that brands should pull ads. This compared with 75% awareness and 76% strong agreement from Observer readers.
How much the brand would have been damaged in the long term in the perception of its own core readership remains open to question. Nonetheless, some media buyers believe NI's decision makes simple commercial sense.
'It was a strange day for newspapers,' says Amy King, head of press at MPG Media Contacts. 'So many clients had pulled out, and how long would that go on for? What NI has done is clever, but we'll wait to see what happens next.'
The axing of the NotW may have sent shockwaves through the industry, but all eyes are now are on what will fill the hole left by the nation's biggest paper.
Editor's comment, page 27.
Timeline Brands' part in the death of a 168-year-old newspaper
Tues 5 July: Ford announced it was suspending all NotW advertising. Other brands, including Npower, TUI, Halifax, T-Mobile, Morrisons, The Co-operative Bank, Virgin Media and Virgin Holidays, said they were reviewing the situation.
Weds 6 July: 09.00 Mumsnet pulled its Sky campaign in protest at the NotW allegations.
09.45 Bloggers organised as the campaign #saynotonotw trended on Twitter.
09.50 Sainsbury's said it was reviewing its links with NotW.
12.00 Halifax pulled its NotW ads and said it was considering its 'longer-term position'.
12.30 Virgin Holidays decided to pull out of bookings for the following Sunday's paper. The Co-operative Group agreed to stop advertising.
13.30 Vauxhall suspended its NotW ads, pending the investigation into the allegations.
13.45 Ofcom said it was 'closely monitoring' the situation and how it might affect News Corp's takeover of BSkyB.
13.50 David Cameron pledged a public inquiry.
14.25 Mitsubishi said it was pulling its ads from the paper due to the 'unspeakable' Milly Dowler phone-hack allegations.
15.25 Butlin's said it would not advertise in Sunday's NotW.
16.00 Wickes said it would not advertise at all while the investigation was in progress.
Thurs 7 July: 10.00 Royal British Legion dropped NotW as campaigning partner following news of the alleged hacking of bereaved families of military personnel.
10.15 Npower suspended its advertising.
10.30 Sainsbury's suspended its advertising due to the 'rising concerns' of customers.
12.00 Boots and Shop Direct pulled their advertising.
12.55 Asda said it had 'no plans to advertise in NotW', but Tesco stood firm in its intention to advertise.
13.50 02, which spent £1m-plus with NotW, suspended its ads.
14.20 Reckitt Benckiser demanded fundamental change before it would return to advertising in the paper.
15.00 Tesco offered small comfort for NotW as it stood by the tabloid.
16.40 James Murdoch released a statement: 'This Sunday will be last issue of News of the World.'
POWER TO THE PEOPLE SOCIAL NETWORKS' ROLE IN THE NOTW'S DOWNFALL
Robin Grant, Managing director, We Are Social
The scale of the protest on social media made all the difference this time. What this also meant, and what we picked up in our monitoring, was that brands were being bombarded in the protests - most of which will be unused to such negative attention.
This was happening across both Facebook and Twitter, and meant that every brand involved was dealing with its own social-media crisis within the bigger protests. The sheer volume of this will have been a shock for many brands and will have drowned out normal marketing activity.
There is talk about the growth of Twitter and Facebook slowing, but actually, we are seeing a change in use rather than a slide in popularity as these services reach critical mass. The users of these platforms are becoming aware of their power.
This protest was also interesting because there was no single pressure group behind it. The same idea sprang up in several different parts of social media and it spread that way.
This has been a mass outpouring of public opinion that hit at the right time and spread like wildfire.
THE AUDIENCE IS MORE IMPORTANT THAN THE BRAND NEWS INTERNATIONAL'S CHALLENGE
John Ayling, Chairman and managing director, John Ayling & Associates
On the morning of the Rugby World Cup final in 2003, I had breakfast in Sydney with media mogul Kerry Packer. One of his questions to me was: 'What the f*** has Conrad (Black, newspaper magnate) been up to and will it affect his brands?'
In the context of recent developments, my response has relevance. Black's internal misdemeanours excited Canary Wharf, but were irrelevant to readers and advertisers and, even short term, didn't touch his Telegraph brand.
In the case of the hacking saga, NotW advertisers had legitimate moral arguments that their brands could be tarnished by association, fuelled by a consumer backlash via social media that would have been impossible in the last century.
Media 'brands' per se are now less important to advertisers than readership or viewing figures. A Sun on Sunday would provide a mass C1C2, younger-biased audience; the only issue is whether Twitter will affect the size of it.
In my early career, a NotW ad director rang my boss to complain that I had asked him to reduce his rates as my computer-optimisation model proved the paper was uneconomic. 'Our rate card is sacrosanct,' he said. I got a rise and The People got the business, but that was an unusual decision at a time when size was more important than value.
It is now more of a commodity market. NI's challenge will be to retain the majority of NotW readers and minimise any backlash.
OnePoll's word cloud depicts angry consuemr sentiment towards NotW