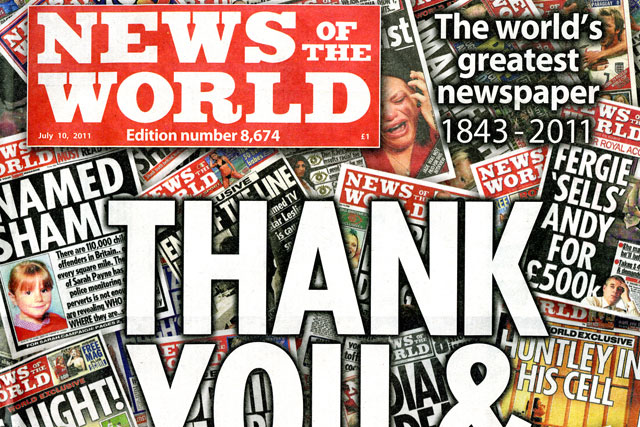 A couple of weeks ago, a frisson of excitement ran through the press planning and buying community as rumours gained ground that News International was planning the launch of The Sun on Sunday to coincide with the start of the Premier League football season.
Well, football is up and running but The Sun on Sunday clearly isn't. In hindsight, perhaps it was all rather wishful thinking on the part of media agencies.
Too soon, some said. The Mur-doch clan is probably well advised to lie low a little longer, they added. However, the problem is that while The Sun on Sunday is a logical - and probably inevitable - next step for NI, the longer it waits, the more problematical the proposition becomes.
On 17 July, the first Sunday without a News of the World since Queen Victoria's reign, there was a huge gap in the market. But that gap diminishes with every week that passes. Red-top and mid-market rivals have been revamping their Sunday propositions and have picked up readers.
Last week's Audit Bureau of Circulations figures showed that the Sunday Mirror (with a sales uplift of around 700,000) and the Daily Star Sunday (up 400,000) did particularly well. All but around half- a-million of NotW's former readers seem to have found a new home. And where readers go, advertiser money inevitably follows.
No-one has ever really believed that a new title, no matter how well supported and cleverly devised, would ever again manage to attract the large and diverse Sunday audience commanded by NotW. But over the past few weeks, the feeling was that (at some point in the near future) an opportunity to reach The Sun readership on a Sunday might prove to be the next best thing.
Perhaps it's time to revise that view. Dominic Williams, the print and radio director at Aegis Media Central Trading, isn't so sure. He still believes there's an opportunity out there for someone - and points out, for instance, that while rival titles have experienced an uplift over the past few weeks, those gains have started to level out.
He says: "It will be interesting to see how The Sun's circulation changes now that it has been confirmed that Fabulous magazine will be a permanent part of the Saturday package. The weekend readership has never been driven solely by the newspapers themselves, but by their overall offerings. Nowhere is this more evident than by the launch of OK! Extra in the Daily Star Sunday. The Mail on Sunday's You is a strong contender to fill the gap that Fabulous has left on a Sunday market, while the Sunday Mirror will continue to play on its sports coverage strength.
"Ultimately, the race for NotW readers will reveal a lot about how Sunday papers are consumed and what drives purchasing choices. I look forward to seeing how this plays out over the coming months."
Jane Wolfson, the head of non-broadcast at Initiative, is similarly cautious about the impressive figures posted by NI's rivals, saying: "It is encouraging for advertisers to see that investment is being put into the Sunday market, and they should take advantage of the current increase in numbers."
However, she is sceptical about whether those increases can be sustained; the trend in circulation and ad revenue has been inexorably downward recently.
She also points out that NotW was valued for the huge reach it delivered, thanks to its mammoth 2.67 million circulation. Despite their gains, no other red-top yet comes close to that figure.
But Neil Allen, the group press director at Starcom MediaVest Group, argues that these figures should be seen as good news for Sunday newspapers, and the newspapers in general. He explains: "Following the closure of NotW, people were making gloomy predictions about the future (of the sector). It's true that there have been coverprice cuts - so there's certainly less coverprice revenue in the market - but we've only lost half-a-million or so in circulation terms. That's better than some people were expecting."
Amy King, the head of press at MPG Media Contacts, says that this issue runs deeper than mere numbers. There is a cultural gap that other titles will struggle to fill, she argues: "NotW held a unique position in our national heritage. Over the years, it (with some justification) labelled itself as the voice of popular Britain and has been a genuine part of British culture. Even if the Murdoch empire were to bite the bullet and launch an alternative Sunday title, this still will not be NotW and we can't assume that loyal fans will return."
NO - Dominic Williams, print/radio director, Aegis Media Central Trading
"It's a hard job to replace NotW, but the others have done a good job so far in a tough marketplace. However, we can still see a gap, and I believe there is still a potential opportunity for someone."
NO - Jane Wolfson, head of non-broadcast, Initiative
"Other red-top titles have taken advantage, but this has been on the back of TV campaigns, price promotions and reader offers and is not sustainable. Early indications are that the numbers are starting to decline."
MAYBE - Neil Allen, group press director, SMG
"These ABC figures are good news for the Sunday newspaper market as a whole. The total circulation of the market is only down by around half-a-million. That's better than some people were predicting a month ago."
NO - Amy King, head of press, MPG Media Contacts
"The remaining Sunday titles have done well to pick up lost NotW readers, but it is too early to say whether these readers will genuinely transfer their loyalty or are just taking part in a sampling exercise, trying to fill their Sunday reading time."
Got a view? E-mail us at campaign@haymarket.com