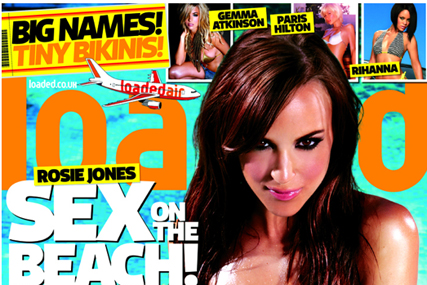 In the six-month period from January to June 2010, IPC Media's Loaded,
which is set to be sold to Vitality Publishing
, had an average issue readership of 484,000.
This was down 24% year on year from 639,000 readers in the six-month period from January 2009 to June 2009.
Bauer Media's monthly FHM was down 19% year on year from 1,521,000 to 1,233,000, and IPC's weekly Nuts dropped 8% from 883,000 to 810,000.
Fellow lads' weekly Zoo, also published by Bauer Media, performed less poorly during the same period, dropping 4% from 623,000 to 595,000.
Loaded's readership shift mirrors the 26% year-on-year drop in its headline circulation to 53,591 copies for the first six months of 2010, as measured by the Audit Bureau of Circulation.
The ABC figures, released earlier this month
, showed the circulations of FHM and Zoo were down 18% and 28% respectively.
In the NRS' general monthly category, Sky Magazine held its ground as the market leader in readership.
The free monthly magazine, which is delivered to all Sky subscribers, had a readership during the six-month period of 8,053,000, up 14% from its previous year's figure of 7,078,000.
The second highest readership for the sector came from Haymarket Consumer Media's FourFourTwo magazine, which no doubt benefited from the excitement surrounding the 2010 World Cup. The magazine was up 13% in readership, from 644,000 to 726,000.
In the general weekly sector, BBC Worldwide's Radio Times dropped 11% year on year from 2,513,000 to 2,239,000.
In the women's weekly market, Hachette Filipacchi's Inside Soap magazine slid 19% from 686,000 to 559,000, while IPC's real-life weekly, Pick Me Up, fell 15% from 1,066,000 to 910,000.
The most noticeable drop in the women's monthly sector was Condé Nast¹s fashion bible Vogue, which plummeted 18% from 1,341,000 to 1,103,000 year on year.
Private Eye magazine suffered the unexpected blow of a 29% fall in readership with an average 630,000 readers for each issue between January and June 2010, compared to 890,000 for the same period in 2009.
Reader¹s Digest, which recently launched a part-free iPad app in a bid to lure a wider audience, was down 29% year on year from 1,644,000 to 1,160,000 readers.
The NRS surveys 36,000 people to estimate newspaper readership, unlike ABCs, which audits the number of copies of papers distributed.