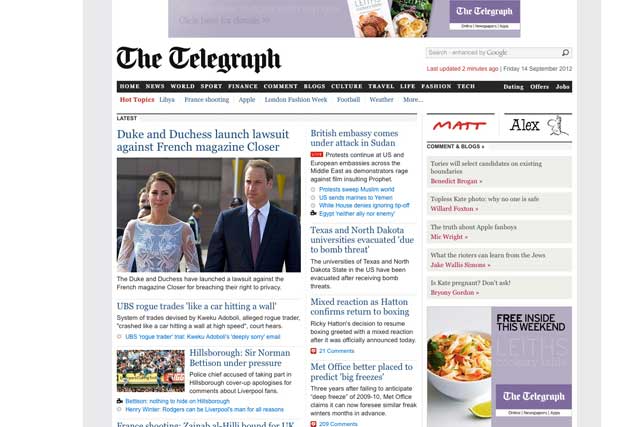 So now, at last, we know for sure - The Telegraph is still the UK's number-one quality news brand. The latest National Readership Survey figures, published last week, contained, for the first time, data outlining online readership alongside the traditional NRS measures of print reach.
And the numbers show that, in the year to the end of March, the combined online and offline daily readership of The Telegraph was 1.95 million, well ahead of The Guardian on 1.7 million and a country mile ahead of The Times, which, thanks to the paywall depredation of its online audience, notched up a combined daily reach figure of 1.35 million (The Independent, lest it feel left out of this, scored 721,000).
But, hang on. What's this? We're getting wind of a communique from a certain Mr Alan Rusbridger, who maintains that the NRS figures prove it's his organ, The Guardian, that is, in point of fact, the UK's number-one quality news brand.
He directs our attention to the monthly (rather than daily) reach figures, which show that his brand has a total average monthly readership of 8.95 million, just ahead of The Telegraph's monthly audience figure of 8.82 million. So, there.
For those who like research to make the media world a less perplexing place, this is not the sort of quibble they want to hear - though, outside of the quality newspaper market, the figures, whether on the basis of daily or weekly or monthly reach, are pretty much in line with what you would expect.
In other words, they enshrine the notion that one mid-market brand, the Mail, and one red-top property, The Sun, continue to lay waste to the opposition.
But, interestingly, the figures show a fascinating spectrum of audience profiles and reveal that there's a whole clutch of titles whose daily online audience remains puny compared with their print equivalents. Paradoxically, perhaps, The Sun is one of these relatively low-scorers on a daily basis - though it redeems itself in its monthly web reach figure.
And that's just within the newspaper section. This report also gives combined online and offline readership figures for the consumer magazine market - and the profile spectrum, as you might expect in such an eclectic and diverse market, is even wider here. A handful have hardly any online readers. Take, for instance, Hello! and Closer (the online component of their combined onand offline readership is, in both cases, less than 5 per cent), and compare them with, say, BBC Easy Cook, whose digital readership is now ten times the size of its print audience.
1 These figures add up to a big step forward for the industry. Previously, the principal measure of digital performance has been an online version of circulation, as published in Audit Bureau of Circulations reports. This new NRS initiative, called PADD (print and digital data), will see combined data published quarterly, a couple of weeks after the main quarterly NRS report (print readership figures will continue to be gathered as they ever were). Publishers will argue that this gives a more appropriate measure of the total scope of the audiences they now command.
2 In this first report, as you might expect (given its "digital-first" strategy), there's only one news brand - The Guardian - whose print readership figures are more than doubled by the addition of monthly online readership figures. And the brand's daily online increment, at 65.5 per cent, is exceptional too.
3 Agency sources tend to back The Telegraph in its argument that the market should focus on daily reach figures. The notion is that The Guardian does better in monthly reach because it has a large number of floating and casual readers, whereas The Telegraph, which boasts 330,000 subscribers, works harder to win reader loyalty.
4 The figures, especially in the magazine market, are so diverse that few simplistic headline stories can be plucked out. But they do point to one interesting (and potentially controversial) phenomenon - across the board, crossover readership is far lower than would have been expected. In other words, relatively few people tend to access a brand both onand offline. They do one or the other. This feels counterintuitive - and, indeed, runs counter to the sales pitches of some media owners, which tend to argue that it's inevitable we'll see increasing cross-platform consumption as a matter of routine.
WHAT IT MEANS FOR ...
Publishers
- Many publishers have been developing a sales narrative to the effect that they have a core readership that has become "platform-agnostic", to use a once-fashionable piece of industry jargon. This research tends to damage that notion beneath the waterline.
- It will be interesting to see what sort of a new narrative they will come up with. The good news is that, where many publications are concerned, the total print-plus-online audience reach is higher than they might have expected.
- Now, all they have to do is come up with a way of making more money from the online component of that audience.
Media agencies
- Amy King, the head of press at MPG Media Contacts, says: "I think the main thing about this research is the way that it demystifies the digital audience. People won't trade off these figures, but they give us insight and that's important for planning - and it will help our conversations with clients."
- "I think NRS PADD data is really interesting and is really stage one in a long process where the advertising community can start to build a full picture of each news or magazine brand," David Mulrenan, the head of press at ZenithOptimedia, adds. "This data will be useful for those advertisers who wish to engage with a magazine or newspaper brand, utilising both onand offline platforms within one plan - however, this is not currently the norm. This data will fuel the planning process, but, in the short term, it may not fundamentally change the way agencies and clients approach trading."