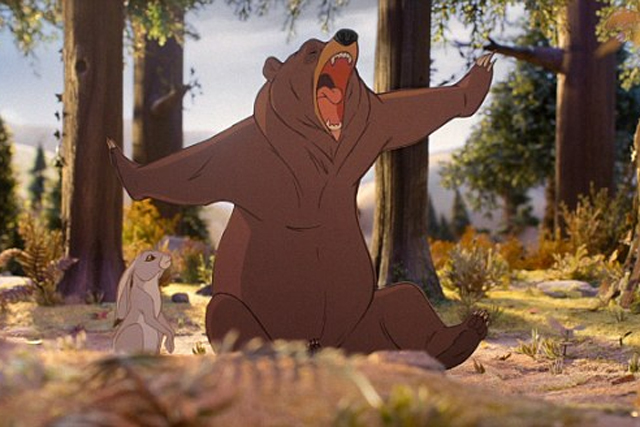 The ad, 'The Bear and the Hare', debuted on ITV's 'The X Factor' on Saturday night 9 November and prompted 86,300 mentions on Twitter over the weekend, according to research from agency We Are Social.
This was up from 66,800 mentions, or 29%, from its launch weekend last year – some way short of the stellar 265% increase in conversations between 2011 and 2012.
Mentions peaked at 31,200 between 8pm and 9pm on Saturday evening, with 4,700 tweets sent between 8:17pm and 8:18 pm alone. Of the tweeters, 30% were male and 70% were female.
Some 80% of the tweets praised the ad, describing it as "cute" and "sweet", while 5% of tweeters claimed the ad had reduced them to tears. Only 1% of tweets were outright negative about the ad and John Lewis.
The campaign also had a positive impact on the brand's social media presence. Over the weekend, John Lewis acquired 7,000 new Twitter followers, 12,000 new Facebook fans and 4,600 additional subscribers on YouTube.
Ed Kitchingman, senior analyst at We Are Social, said: "John Lewis should be delighted with the overwhelming response and positive reaction to its 2013 advert. Its reputation, savvy marketing and clever use of social media to create hype ahead of its official release have helped turn the airing of its Christmas advert into a national event.
"John Lewis' success further highlights the benefits of a well-thought-through integrated campaign, where social plays an integral part. In the future, this should, and will become the norm for brands launching major above-the-line campaigns."
Bookmaker Ladbrokes has made the ad's soundtrack, a cover of Keane hit 'Somewhere Only We Know' by Lily Allen, the new favourite to be Christmas number one.
However, John Lewis was forced to defend accusations it had plagiarised the concept of the ad, after social media users compared its plot to that of children's book 'Bear Stays Up for Christmas'.
A John Lewis spokesman said: "They're not related. Stories about animals at Christmas are nothing new."