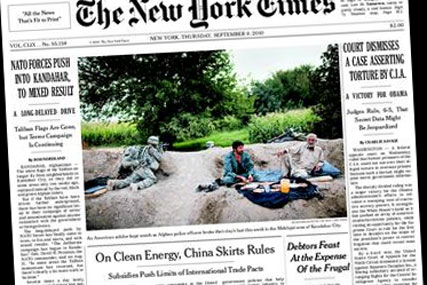 Speaking at Wan-Ifra 9th International Newsroom Summit yesterday in London, Sulzberger for the first time accepted the paper will one day have to cease printing.
Sulzberger, according to editorsweblog, said: "We will stop printing the New York Times sometime in the future, date TBD."
The admission comes as The New York Times prepares to introduce a paywall for the first time next year. While the paper initially introduced a paid online subscription model in 2007, it abandoned it in favour of having higher online traffic figures after it failed to make money from online advertising.
It has since made a u-turn with Sulzberger noting at the conference that the paper needed to take risks in the quest to find a business model to support its journalism output.
In a model similar to The Financial Times, readers of the NYT will be allowed to access a certain number of articles for free each month. Unlike The Times in London, the paper will also work with Google to implement fist click free model.
The paper has also stressed it wants to remain relevant in terms of social media and recently added the ability to allow users to login into its site via Facebook.
Sulzberger, at the conference, said: "We believe that serious media organisations must start to collect additional revenue from their readers...information is less and less yearning to be free."
In July the paper posted results that showed a revenue increase for the first time in almost three years, as well as a 21% rise in online ad revenues. It reported a 1.2% increase in revenue to $589.6m from $582.7m in the second quarter of 2009.
His speech coincided with the New York Times Company rebranding its international sales operation as The New York Times Global in an effort to reinforce its global advertising positioning and reach for its flagship paper and the Paris-based International Herald Tribune.
Jean Christophe Demarta, vice president international advertising, The New York Times Global, said: "By rebranding our offering as The New York Times Global we aim to send a strong message that we can help our clients reach some of the most sought after audiences in the world, wherever they are in the world."
Read more on The Wall