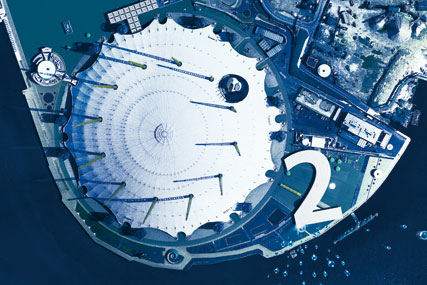 The London Borough of Greenwich granted planning consent for the walkway last week, paving the way for construction to start on the attraction which will eventually allow pedestrians to climb the roof and take in views across the capital.
AEG has now set about finding an appropriate sponsor for the structure, which it plans to build in time for the 2012 London Olympics.
Lesley Saville, executive director of AEG Global Partnerships, said: "The roofwalk is a hugely exciting opportunity for a brand to create a unique customer experience at the world's most popular music venue.
"It follows on from our ethos of working in partnership with leading companies to create world class experiences throughout The O2.
"For us sponsorship has always been about brands interacting with their customers, it has never been a brand 'badging' exercise. Anyone can do that."
Architect Rogers Stirk Harbour and Partners – the original designer of The O2 – have been brought in to design the project to complement the existing structure.
The walkway, which will be suspended from The O2's distinctive yellow masts, will be 190 metres long and 60 metres above the ground at its highest point.
Accommodating up to 90 people at any one time, the walkway will provide access to a central viewing platform from a base station situated at the entrance to The O2.