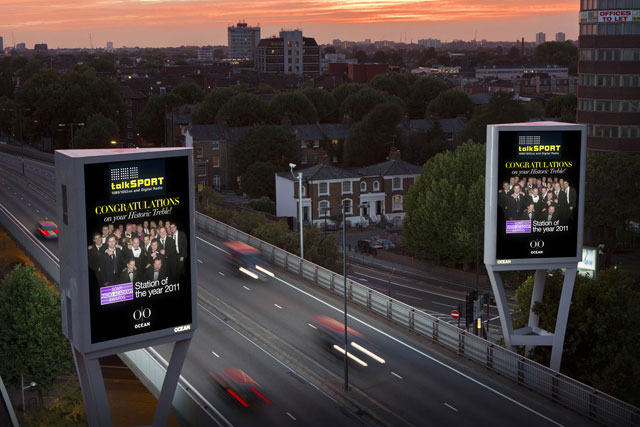 Throughout the summer, Ocean Outdoor will show TalkSport-curated sports bulletins on its network of 15 large-format digital screens, so people can keep up to date with what is happening on the pitch, track or field while they are out and about.
TalkSport's on-air bulletins will be transformed into text by the TalkSport news team and visualised on Ocean Outdoor's screens, including the new Eastern Motion on the A13 and the Liverpool Media Wall, from Friday (25 May).
Throughout the summer, TalkSport aims to sell bespoke integrated multiplatform campaigns to advertisers using on-air radio ads, digital, the free Sport print magazine and digital out of home.
Other outdoor media owners already display news updates on digital screens – for example JCDecaux has a relationship with BSkyB's Sky News – but this is the first such deal TalkSport has signed.
It is understood that Ocean Outdoor will receive revenue through the deal, but a spokesman declined to comment on the details of the partnership.
Adam Bullock, managing director of TalkSport and Sport magazine sales, said: "This summer is a carnival of sport and we know that TalkSport listeners have a voracious appetite to be kept up to date.
"This highly valuable mobile audience will be able to keep in contact with TalkSport's coverage while out and about on-air, online or via Ocean's highly impactful screens."
TalkSport has official broadcast rights for the Euro 2012 football tournament in Poland and Ukraine, which kicks off for two weeks on 8 June.
Richard Malton, marketing director at Ocean Outdoor, said: "Media convergence, technology convergence – it's all about creating a seamless journey through different environments and mindsets. This unique relationship allows TalkSport to keep its listeners informed, wherever they are."
Follow Maisie McCabe on Twitter @MaisieMcCabe