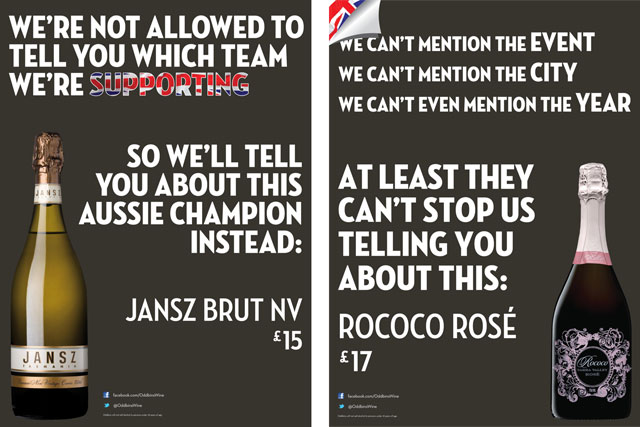 Oddbins launched what it deemed a "counter-marketing strike" just weeks ago. It offered a 30% discount to anyone who visits its stores with products from non-Olympic sponsors.
To qualify, customers need to visit one of Oddbins' 35 branches wearing Nike trainers and have in their pocket a set of Vauxhall car keys, an RBS MasterCard, an iPhone, a bill from British Gas and a receipt for a Pepsi bought at KFC.
Ayo Akintola, the managing director of the chain, railed at Olympics organisers for the toughness of the rules around advertising the Games.
Akinitola said: "Thanks to Locog (London Organising Committee of the Olympic and Paralympic Games), any business without the tens of millions of pounds required to join the cabal of multinational brand partners for the Games are reduced to the status of beggars on the gilded streets of the Olympic movement."
Window displays in Oddbins read: "We're not allowed to tell you which team we're supporting...so we'll tell you about this Aussie champion instead. Jansz Brut NV £15."
Another announced: "We can't mention the event. We can't mention the city. We can't even mention the year. At least they can't stop us telling you about this: Rococco Rose £17."
The Oddbins stunt was so unequivocally aimed at the advertising rules around the Olympics, that the London organisers' legal team investigated whether it breached any rules and required action.
Currently, organisers plan not to take any action against Oddbins but a spokesperson for London 2012 said: "We are aware and monitoring their activity."
It follows the Olympic organisers ruling that Nike's global ad campaign, launched to cash in on the excitement around the Games, did not breach adverting rules.
Oddbins declined to comment.
Follow @johnreynolds10